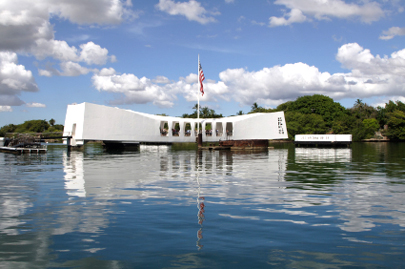 Photo by iStockPhoto.com (c) Kristina Castagnola
The USS Arizona Memorial is at Pearl Harbor, on the outskirts of Honolulu. This formerly tranquil military installation was shocked into World War II on the morning of Dec. 7, 1941 with a Japanese attack that killed more than 2300 Americans. Of those, 1177 were crew members of the Arizona, which sank with more than 900 crew aboard.

If you go:
Admission is free, and so is parking. For a fee, you can also tour the USS Bowfin and the USS Missouri, which also was damaged in the attack. Accessible from bus line #42. Be advised that depending on when you arrive, there could be a long wait (up to 2 hours) in the visitors center before your tour departs. Open every day except Thanksgiving, Christmas and New Years.
Links:
1 Arizona Memorial Place
Honolulu, Hawaii 96818 USA
Phone Numbers:
Park Information
+1 (808) 422-3300