344 miles - 8 hours
Head west on US Route 2 across northeast Montana and you're traveling through the Missouri River Country, a landscape of big skies, wide-open vistas, small railroad towns and the remains of some of the largest and most fearsome animals to have walked this earth.
Here are some highlights along the route.
Williston, North Dakota
(Starting point)
The main attraction of oil-and-agriculture city Williston, is the choice of historical and natural attractions nearby. To the east is
Lewis and Clark State Park
, to the south
Theodore Roosevelt N.P.
, and to the southwest the
Missouri-Yellowstone Confluence
.
Find Hotels and Motels Near Williston
U.S. Route 2
This trip follows U.S. Route 2 west across Montana's Missouri Country. While its beauty lies in its big skies and wide open landscapes, the character and charm of northwest Montana lie in the small things: the abandoned homesteads that dot the plains, the water towers that announce the presence of another town just up ahead, and the county museums, packed from floor to ceiling with the dusty relics of the people who settled, farmed, raised families and died here.
Wolf Point
(mile 94)
Wolf Point
was given its name by trappers who found this bend in the Missouri a successful place to set their traps. It was also where the Lewis and Clark expedition encountered and killed a grizzly bear weighing as much as 600 lbs. Visitors today can experience the culture, food and traditional crafts of the Assiniboine people.
Glasgow
(mile 146)
The Valley County Pioneer Museum
in Glasgow is a treasure trove of relics, collections and assorted ephemera from Montana's past, covering everything from dinosaur bones and railroad memorabilia to an Assiniboine tipi and a buffalo butchered to mark a visit by President Franklin D Roosevelt. There's even an entire 1924 catalogue house. Unmissable.
Malta
(mile 208)
The city of Malta is home to not one but two excellent museums. The
Phillips County Museum
offers you Native American artifacts, exhibits from the homestead era and a 33 foot Brachylophosaurus called Elvis. The
Great Plains Dinosaur Museum
is, as its name suggests, more specialist in its attractions, including Leonardo, a rare mummified dinosaur .
Chinook
(mile 275)
If you're planning to visit Bear Paw Battlefield (see below), the final point on the 1,170-mile Nez Perce trail, a visit to
Chinook's Blaine County Museum
is a must, especially the introductory film '40 Miles From Freedom'. It goes without saying that there's plenty of dinosaur stuff too!
Bear Paw Battlefield
(mile 290)
Take a self-guided walk around
Bear Paw Battlefield
and you'll be struck by the quiet remoteness of the place, just 40 miles south of the border with Canada. This is where, in September 1877, Chief Joseph was finally forced to surrender with the moving words: 'Hear me, my chiefs. I am tired, my heart is sick and sad. From where the sun now stands I will fight no more forever.'
Havre
(mile 344)
This long but memorable drive ends in Havre, where you should be sure to make time to visit the
Wahkpa Chu'gn buffalo jump
. Its location, behind a shopping center, is less than promising but it's actually a fascinating opportunity to explore a site chock-full of archaeological remains, including a 20-ft high wall of buffalo bones.
Find Hotels and Motels Near Havre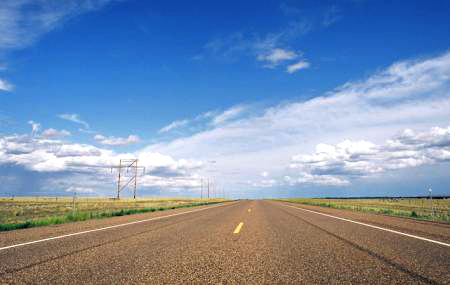 U.S. Highway 2 provides some 'Big Sky'
vistas in Northern Montana