A must see on the Hells Canyon Scenic Byway is the
Wallowa Lake Tramway.
The view from the gondola is great, but there is even more stunning sights at the 8,150-foot summit. There are hiking trails with magnificent views and a full service restaurant. Activities are available for those adventurous souls, mountain biking, hang gliding and glider flying to name a few. Or you can just relax and enjoy the view. The tramway operates from May through September, depending on alpine conditions.
In nearby Joseph there are boutique shops, restaurants and magnificent statues on almost every corner. The town of Joseph reinvented itself as leading foundry for monumental sculptures after the logging industry closed 25 years ago. Joseph is just four miles from the tramway at the upper end of Wallowa Lake. Camping is available in
Wallowa Lake State Park
near the base of the tramway.
IF YOU GO:
Wear hiking shoes and a jacket. This is alpine climate. Check the weather and make reservations in advance, especially for hotels and dining.
BEST TIME TO VISIT:
Seasonal, May through October, with scenery to match the time of year. The tramway is closed in the winter.
Street Address: 59919 Wallowa Lake Highway, Joseph, Oregon 97846
Last visit September, 2010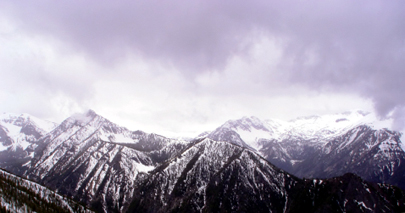 The Wallowa Mountains near Joseph, Oregon
Photo courtesy of iStockPhoto.com/ © Sia Yambasu