The Stonehenge Memorial is a full-sized replica of its original namesake in England, except this one is built of concrete, is not in ruins and sits on a hill overlooking the Columbia River Gorge and (on a clear day) Mount Hood. It was commissioned by a local businessman in 1918 as a memorial to three men killed in World War I.
The memorial was completed in 1929 and is located three miles east of the Mary Hill Museum. Thirteen names of local servicemen killed in the war are inscribed on the pillars. Originally the plan was to construct the memorial using local rock, but that plan was abandoned when the available rock proved difficult to manage. The
memorial
sits on the original Mary Hill town site, which the developer, Sam Hill, moved to better accommodate this structure.
Additional photographs of this memorial can be seen here.
IF YOU GO:
wear walking shoes and check the weather, as this is an outside venue. Bring camera and binoculars. Open during daylight hours. Admission is free, but donations are welcomed.
BEST TIME TO VISIT:
Summer or fall are best, but it is open year round.
Last visit September, 2010
One mile east of the intersection of Hwy 92 and Hwy 14, Maryhill, Washington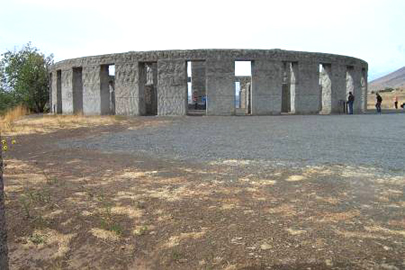 The Stonehenge Memorial in the Columbia River Gorge
Photo courtesy of Harry Kline