Mackinac Island is located in Lake Huron, just off-shore of Michigan's Upper Peninsula. There is no land bridge but three companies provide ferry service with rooster-tail boats that skim the water from either Mackinac City or St. Ignace. The trip takes about 30 minutes, and is sometimes cool and wet if the wind blows. There is a fee, but a single ticket is based on a round trip. There are no cars allowed on Mackinac, but you can walk, bicycle or take the horse-drawn carriage ride to the major attractions, the colonial town, The Grand Hotel, Arch Rock and
Fort Mackinac.
Plan on at least a full day to see all the sights on the island. Purchase souvenirs and, of course, the fudge from one of the many shops along the way. Pageantry, history, and maybe a celebrity sighting or two await you on this famous island between the upper and lower peninsulas of Michigan.
Click here for a route trip route for this area.
IF YOU GO:
dress warmly for the ferry ride, and wear walking shoes. You'll need them, even if you do ride some of the way.
BEST TIME TO VISIT:
Summer is best due to bay/island weather. Most attractions are open from May to mid-October, but areas of the State parks are open year round.
Last visit June, 2010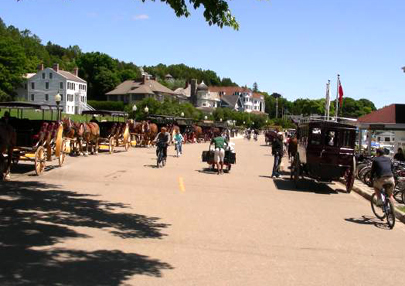 Typical street scene on Mackinac Island
Photo courtesy of Harry Kline