Hells Canyon is the deepest canyon in the United States. It is remote, and even if you are on the
Hells Canyon Scenic Byway,
the dam is a side trip. The curvy, hilly road from Copperfield to the dam is 44 miles round-trip. Along the way are magnificent views of the reservoir and the canyon.
The road ends just beyond the dam, where there is an interpretive center. A trail into the lower canyon starts there. You can hike a short distance, but not all the way into the lower canyon.
Two companies offer boat tours into the lower part of Hells Canyon. For the really adventurous, you can spend up to six days
white water rafting down the canyon,
or you can take a
six-hour boat tour
in a motor launch.
The other way into the canyon is by llama. That's right, you can take
a llama trek
into Hells Canyon for several days.
IF YOU GO:
Wear good hiking shoes and bring a jacket. Check the weather, as there is no shelter except for your vehicle.
BEST TIME TO VISIT:
Summer is best, but the road and canyon are open May to mid-October. CLOSED IN WINTER MONTHS.
Jurisdiction: Wallowa National Forest & Idaho Power Company
Last visit September, 2010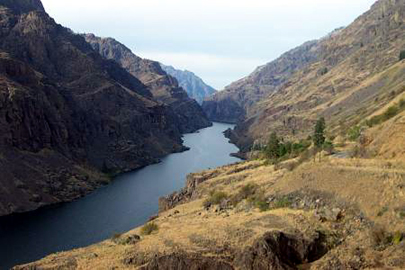 Very remote, but a very cool road that
parallels the deepest canyon in America
Photo courtesy of Harry Kline