Mackinac Island is located in Lake Huron, just off-shore of Michigan's Upper Peninsula and the
Grand Hotel
is an architectural wonder, it was built in just 94 days and it has the longest porch in the world at 660 feet. There are 385 rooms, and accommodations, while expensive, include breakfast, luncheon buffet and a 5-course dinner. No visit to Mackinac Island is complete without a visit to the hotel to photograph the building and gardens from outside. Entrance will cost you $10, but it is worth the price. If you are a hotel guest a horse and carriage from the Grand will transport you and your luggage from the ferry dock to the hotel.
Horse-drawn carriage rides and bicycling are the only modes of transportation.
There are several themed guest packages during the season, which lasts from May to late-October, including a Mystery Weekend and a Somewhere In Time Weekend, celebrating the namesake movie shot there in 1980.
IF YOU GO:
Bring semi-formal wear along with lots of casual, and walking shoes. Cool evenings require a jacket or sweater. Golf and lawn bowling are available to hotel guests, too.
BEST TIME TO VISIT:
Anytime is good, as seasonal changes bring flowers and good foliage. The hotel is closed from late-October until Spring.
STREET ADDRESS: 286 Grand Avenue Mackinac Island, MI 49757
Last visit June 2010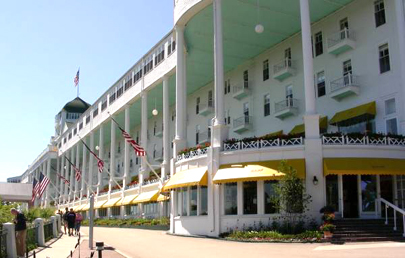 The Grand Hotel boasts the longest porch in the world
Photo courtesy of Harry Kline