Hannibal, Missouir is the home of Samuel Clemens (Mark Twain). Though fictionalized as St. Petersburg, this little city on the Mississippi features many sites that will be familiar to readers of his novels. The logical place to start your literary excursion is at the
Mark Twain Boyhood Home and Museum.
But this home itself is only one of eight properties operated by the Boyhood Home and Museum, all located close together, and all included on one convenient tour.
Among these are the newly reconstructed Blankenship house, an exhibit of Twain memorabilia such as his typewriter and trademark white jacket, the office where Twain's father worked as justice of the peace (it was the setting of a trial scene in 'Tom Sawyer'),
and Grant's Drugstore, a former social hub that now displays some stunning reminders of what medical care was like a century or two ago. The Museum Gallery features original illustrations by Norman Rockwell for a 1935 edition of 'Tom Sawyer', a task for which he visited Hannibal to do research.
IF YOU GO:
The tour of the Twain attractions begins at the Interpretive Center, and takes one to two hours. Note that as of this writing, some of the buildings are being renovated, and the Becky Thatcher House is closed until this work is completed. Be sure to visit some of the other historic sites in town, such as the home of socialite and Titanic survivor Margaret ('Unsinkable Molly') Brown. The cave that figures prominently in 'Tom Sawyer' is about a mile out of town, and very much worth touring. (Among other things it features graffiti left by Jesse James.) It sits next to a fine RV campground, and another cave that requires carrying a lantern to tour.
WHEN TO VISIT:
Open every day except major holidays all year long. It's especially fun to visit Hannibal during
National Tom Sawyer Days
which has been held around Independence Day for over half a century and features a much celebrated fence painting contest.
JURISDICTION: Mark Twain Home Board/ Mark Twain Home Foundation
INFORMATION VERIFIED BY: Dennis Goza by phone, October 2010. Last visit July 2008.
ADDRESS: (Interpretive Center) 415 N. Main St., Hannibal MO 63401. The home itself is at 208 Hill St.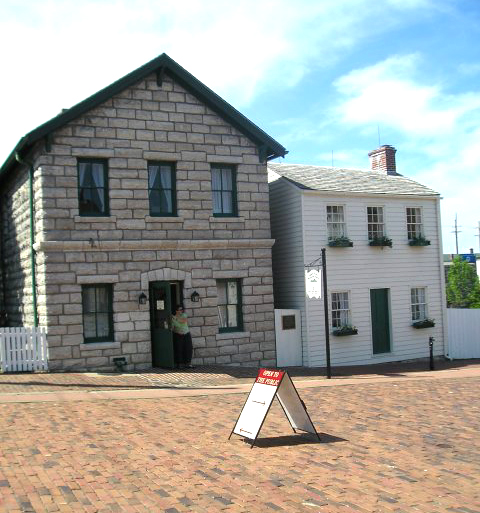 The Mark Twain home in Hannibal, Missouri
Photo courtesy of Gerald Thurman