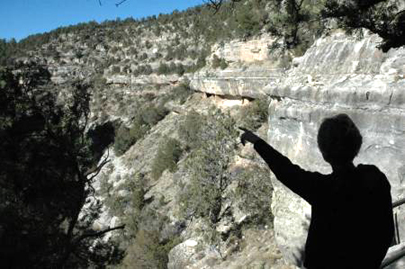 A few miles to the east of Flagstaff, Arizona is one of the lesser known jewels of the National Park Service-Walnut Canyon National Monument. The narrow canyon with steep walls drops down off the Colorado Plateau, out of sight of nearby Interstate 40. The Sinaguan people populated the canyon for a short time, perhaps moving there as the result of volcanic activity on the plateau north of here where they had previously lived. Families grew corn and other staples up on the rim and found water in the stream below, living safely in cliff dwellings tucked in the sides of the canyon. Archaeologists place the Sinaguans here from around 1100 to 1250 A.D. before they moved on.
Visitors can view some cliff dwellings from the visitor center perched at the top of the canyon or walk the Rim Trail along the top with a spectacular overview of the canyon. For an up close look, hike .9 miles down 240 steps on the Island Trail to walk in 25 cliff dwelling rooms and view others across the canyon. The Island Trail gives you a glimpse of what living in the canyon was like. Standing in one of the dwellings or granaries, you can get a sense of what life here was like. (The path is steep so be sure you can handle the climb back up and take plenty of water.)
IF YOU GO:
The entrance fee is $5 per person. America Beautiful Passes honored. Allow a couple of hours to see the visitor center and to hike the Rim and Island trails. Total length of RVs should be no more than 40 feet.
WHEN TO VISIT:
The monument is open from 8 to 5 May through October and 9 to 5 the rest of the year. Closed Christmas. Elevation is 6690 feet, so you could find snow in the winter, temperatures in the 90s and afternoon thunderstorms during the summer.
JURISDICTION: National Park Service
INFORMATION: August, 2010.
ADDRESS: Flagstaff Area National Monuments, 6400 N. Hwy 89, Flagstaff, AZ 86004 . Physical address: Take exit 204 on Interstate 40 and drive south.