As you drive south from Waldoboro on State Route 32, a six-foot tall puffin standing along the right side of road will likely catch your eye. You'll probably notice there is quite a collection of whimsical creations nearby. Pull off the road and you'll see a huge garden full of whimsical animals and other creations made entirely of recycled materials. This is the
Recycle Art Gallery
with Nathan Nicholls' extensive collection displayed all through the grounds.
Wander back to see a mermaid, huge lion, Alice and Wonderland characters, a giant lobster, flowers and so much more. Paths take you through various groupings made of all sorts of metal - nails, gears, wrenches, tanks, horseshoes and miscellaneous pieces. Star Wars-like characters play poker under a giant shade tree on the hill. A frog has captured a dragonfly on the end of his long tongue.
The sculptures made of junk - some painted, some not - will bring a smile or chuckle. You might catch a glimpse of a real bull frog sitting on the metal ship in the small pond by the shop. In any case, what a fun interlude in your travels along the coast of mid-Maine!
IF YOU GO:
Be sure to pull off the pavement and park safely. There is no charge to wander through the garden and enjoy the sculptures. Donations are accepted and appreciated. Sculptures are for sale.
WHEN TO VISIT:
Visitors are welcome anytime.
JURISDICTION: Privately owned. Nathan Nicholls, proprietor.
INFORMATION BY: Jaimie Bruzenak, September 2010.
ADDRESS: 483 Bremen Rd, Waldoboro, Maine.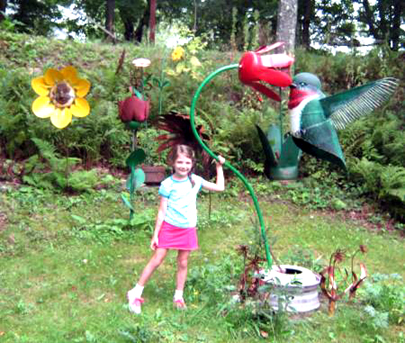 Giant hummingbird at the Recycle Art Gallery
Photo courtesy of George Bruzenak