10 miles off the coast of central Maine is a small island and artist colony, Monhegan Island. A 50-minute ferry ride out of New Harbor will take you to the tiny village for a day of exploring art galleries, a visit to the museum, or hiking some of the 17 miles of trails. Don't expect to be picked up by car even if you decide to stay at one of the hotels or other accommodations. The few vehicles are for deliveries only. This is a pedestrian's delight. The entire island is less than one-square mile in area.
Hike up to the lighthouse and museum to the highest point for stunning views. You can pick up Trail 7 to take you over to White Head and cliffs high above the ocean where you can follow Trail 1, the outer loop south to the wreck of the Sheridan. From here back to the village is a short walk in plenty of time for a cup of coffee or cool drink before catching the ferry back to the mainland. Spending the night will give you more time to explore the trails and catch the artists at work. Artists set up easels all over the island- everywhere you look is a picture. Perhaps it will inspire you to draw or paint your own! Be sure to make a reservation in advance if you plan to stay. No camping is permitted.
IF YOU GO:
Ferries leave from New Harbor, Port Clyde and Boothbay Harbor. During the summer, the
Hardy Boat
leaves from New Harbor daily at 9 and 2, returning at 10:15 and 3:15. Fares are $32 adults, $18 children for a round trip ticket.
WHEN TO VISIT:
Regular ferry service runs from mid-May to Columbus Day, coinciding with the best weather and most popular time to visit. Galleries have different days and hours of operations. Look for one of the bulletin boards to find the schedule. A trail map can be obtained on the ferry or in one of the gift shops.
JURISDICTION: Much of Monhegan is privately owned with the wildlands managed by the Monhegan Associates. Find out more at the
Visitor's Guide to Monhegan Island.
Last visit, September 2010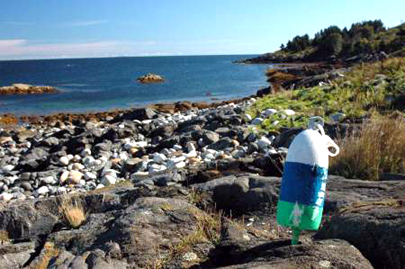 Rocky pebble beach on the north side of Monhegan Island
Photo courtesy of George Bruzenak