One of more than 60 lighthouses along the Maine Coast, Pemaquid Point Lighthouse is one of the more photogenic. Accessible 14.5 miles south of Damariscotta on Route 130, the lighthouse originally went into service in 1827. The point, at the entrance to Muscongus Bay to the east and Johns Bay to the west, had been the scene of many shipwrecks prior to then.
There is a small fee to park in the lot. Visitors can climb to the top of the lighthouse tower, though there is only room for a few at a time. Views are stupendous.
The light is a fourth-order Fresnel. The lightkeeper's house is now a museum. Picnic tables on the grounds make a nice place to have lunch, or eat at the neighboring Sea Gull Restaurant and Gift Shop. An art gallery is also located on the grounds and the lighthouse is a popular subject for artists.
IF YOU GO:
There is a small fee to park.
Tower and museum tours are free
but donations are appreciated. For geocachers, there are a couple of caches on the grounds.
WHEN TO VISIT:
Volunteers open the lighthouse to the public from Memorial Day to Columbus Day from 10:30 to 5.
JURISDICTION: Town of Bristol.
Last Visit or verified by Jaimie Bruzenak, September 2010
ADDRESS: On Bristol road, two blocks west of Pemaquid Loop Road is the location of the Pemaquid Lighthouse Park, which is technically part of Bristol, Maine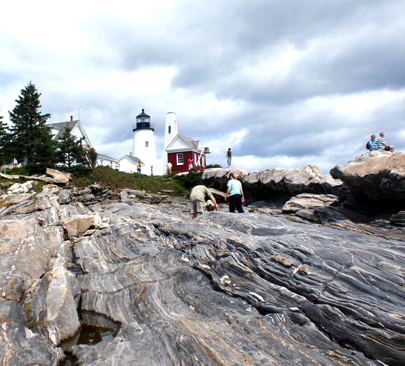 Granite outcroppings just below Pemaquid Lighthouse