208 miles - 4 hours
This journey follows the Missouri River north through the spectacular scenery of Montana's Russell Country, making its way past wonderfully photogenic mountain views and offering numerous opportunities to stop and explore key points along Lewis and Clark's expedition of discovery. As the river turns and heads east, this route continues north through open plains into 'Big Sky' country.
Here are some of the highlights to look out for along the way:
Helena, Montana
(Starting point)
Originally known by the wonderfully evocative name of Last Chance Gulch,
Helena
was once a gold town and even when this ran out, the wealth stayed around. The capitol building is a must-see, four round paintings in the Rotunda depict the territory's earliest people: The Indian Chief, The Cowboy, The Prospector and The Trapper.
Find Hotels and Motels Near Helena
Gates of the Mountains
(mile 17)
The first in a number of Lewis and Clark-related sites on this route,
Gates of the Mountains
is a dramatic section of the Missouri where sheer limestone cliffs rise 1200 ft on either side. Take a 2-hour ride on a tour boat and imagine how forbidding this 3-mile canyon must have looked to the expedition party.
Tower Rock State Park
(mile 50)
Tower Rock State Park
showcases some of the most spectacular scenery in north central Montana. The centerpiece is a 400-ft tall, saddle-shaped rock referred to as 'the tower' in the journals of Captain Meriwether Lewis, written in 1805.
Great Falls
(mile 86)
The five spectacular waterfalls that give this city its name were first reported by Lewis and Clark, and the epic adventures of the Corps of Discovery are explored at the
Lewis and Clark Interpretive Center
. The city's other major cultural attraction is the
Charles M. Russell Museum
, dedicated to the work of this late 19th/early 20th century Western artist.
Fort Benton
(mile 124)
Fort Benton
is one of those places that just ooze history. Over the years it has been a base for (you guessed it) the Corps of Discovery, a fur trading post, a steamboat port and a lawless town infamous for its gunfights and brothels. It is now a National Historic Landmark.
And also home of the famous dog, Shep!
Havre
(mile 208)
Havre owes its existence to the railways and still has a gritty, workmanlike feel to it. While it may not be the most picturesque destinations in its own right, it has two great visitor attractions that make it an essential stop if you're in the region: the relics of a 2,000 year old buffalo jump,
Wahkpa Chu'gn
, and a fascinating 100 year old 'underground mall', today known as
Havre Beneath The Streets
.
Find Hotels and Motels Near Havre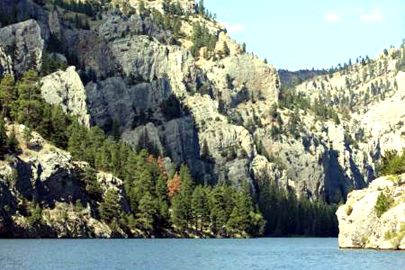 Gates of the Mountains, the
dramatic 3-mile long limestone canyon
that greeted the Corps of Discovery in July 1805.