You're driving down route 66 at night and...what is that? Is that... a giant lit up color changing bottle of soda pop? Yes, yes it is. ItĎs a 66 foot sculpture of a soda bottle, beckoning travelers in for a rest stop at the famous
Pop's
on the old route 66 just outside Oklahoma City.
Huge cantilevers roof supports hang unsupported over you and your vehicle. Super modern fuel pumps make this gas station like no other, and then there's the best part: pop.
A rainbow of soda aligns the floor to ceiling glass windows. There are coolers with over 500 unknown, interesting, and obscure glass bottles of soda, called the 'soda ranch.' If you really must, they have Pepsi and other more common sodas.
There is also a restaurant serving breakfast, lunch, and dinner, and of course shakes, malts, and ice cream too.
IF YOU GO:
Be in need of a caffeine/sugar fix. Soda is kind of pricey at $2.19 a bottle, but where else are you going to have that kind of selection? Some soda is on sale.

WHEN TO VISIT:
Year-round.
JURISDICTION: Privately Owned
Last visit , June 2010
ADDRESS: 660 W. Highway 66 Arcadia, OK 73007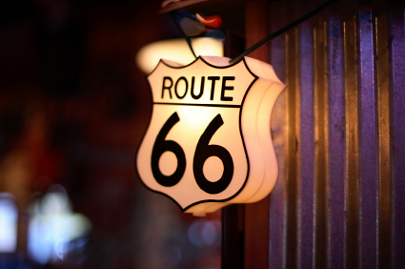 A Route 66 lamp welcomes visitors
Photo courtesy of iStockPhoto.com / © Dieter Spearsr