Originally created in 1974 by members of the art group Art Farm, this
public art installation and sculpture
in Amarillo, Texas is one of the most beloved stops on Route 66. The line of used or junk Cadillac cars, representing a number of evolutions in the car line, half buried nose first in the ground, has been an important pop culture icon for years, appearing in the movie 'Cars' and the title of a Bruce Springsteen song.
The Cadillac Ranch was moved from a wheat field in 1997 two miles west into a cow pasture. It can be seen from the highway, and although on private property, visiting and spray painting the cars is encouraged. Here's another field report from
RTA Road Tripper, Gerald Thurman
IF YOU GO:
Respect that it's private property, make sure you only spray paint the cars, and make sure you don't let any cows out.
WHEN TO VISIT:
Year-round.
JURISDICTION: Privately Owned
Last visit , June 2010
ADDRESS: I-40, east-bound between exit 60 and 62-A, near Amarillo, TX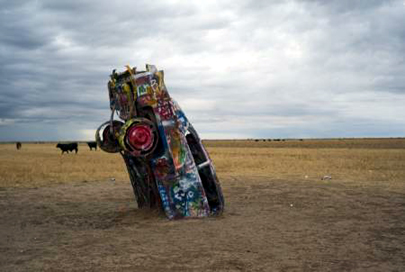 A freshly painted art work