41 miles -2 to 5 hours
Following the Hudson River just north of New York city will provide a surprisingly scenic tour, and one that encompasses a great deal of history and folklore in a relative short drive that includes restored mansions, preserved historic architecture, folklore, two military academies, and the legacy of some imaginative literary figures who lived in the area. For the most part, all you need to do is follow US Highway 9, taking as much time as you wish to take in the points of interest along the way.
Here are some highlights along the route.
Yonkers, New York
(Starting point)
The city of Yonkers, just north of New York City, is a short distance from The Bronx Zoo and
Yankee Stadium
. It's also home to the Yonkers Raceway, a revered harness track which - like most racetracks these days - now features a casino as well. These attractions may be well enough known to the general public, but what is not so well known is that Yonkers is also the site of a finely preserved example of a British manor, the
Philipse Manor.
The original owner, Mr. Philipse, was so loyal to the Crown that Gen. Washington had him arrested. His former house is now a museum of history, architecture and art.
Tarrytown
(mile 11)
Mr. Philipse crops up again in Tarrytown, where Philipsburg Mano is another estate he owned, accompanied by a restored and functional watermill that looks as if it belongs in a Winslow Homer painting. The grounds become especially festive at Halloween, when a 'headless' horsemen has been known to make appearances. That's because one of the neighbors in the old days was folklorist Washington Irving, who popularized a local ghost tale, 'The Legend of Sleepy Hollow'. Irving's imaginatively designed and appointed house, Sunnyside,] is also open for tours. As is an old Rockefeller estate called Kykuit. Tarrytown also boasts the old Union Church which features stained glass designed by French masters Henri Matisse and Marc Chagall.
Ossining
(mile 17)
This village on the Hudson was originally called Sing Sing, after a Native American name. And yes, it's the home of the notorious correctional institution of the same name. But you'd never guess that to take a stroll through the downtown historic district – all of which is on the National Register of Historic Places.
Peekskill
(mile 26)
You may have heard about this town because it was struck by a meteor in 1992, seriously damaging a vehicle in the process. Peekskill also earned its place in history as the former site of the Peekskill Military Academy (now defunct), whose students included young L. Frank Baum, the future author of the Oz books. More commonly, however, the town is known as a haven for the arts and for artists. Of particular interest is the
Paramount Hudson Valley Theater
, a restored movie house from 1930. It still shows movies, but it also showcases big-name entertainment.
Cold Spring
(mile 41)
A good place to end up, as there are several bed and breakfast inns at which to stay while soaking up the beautiful environs of the Hudson Valley. You can get a get view across the river of West Point, the acclaimed academy for U. S. Army officers. You can explore nature by foot or bike at
Little Stony Point State Park
and see Hudson Fjord, a rare American example of a genuine fjord carved out by a glacier. All of this within a short distance of The Big Apple!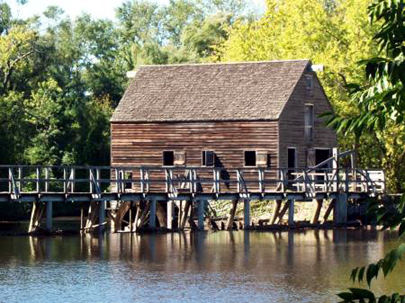 Watermill at Philipsburg Manor, Tarrytown
Photo by Kimberly Goza