The Freemasons have been getting a great deal of publicity these days, mostly rather fanciful rumors about secret plots and buried treasure.
The George Washington National Masonic Memorial
aims to correct the misconceptions about the order and educate the public about its true mission and history. After touring the memorial, you'll have a better appreciation for what the organization stands for, and certainly for the charity work it's involved in. (The Shriners are an offshoot of the Freemasons.)
The memorial is a handsome 10-story tower loosely based on the design of the lighthouse of Alexandria in ancient Egypt.
You can access the first two floors free, and see some displays about the Shriners' work on behalf of children, as well as artwork depicting Masonic history. If available, take a guided tour to the areas that otherwise would be off-limits. You'll learn about George Washington's involvement in the order, and see an actual lock of his hair, as well as the 'death clock' that was in the room when he expired, and which was promptly stopped to show the time of his death to all posterity. You'll also see the symbolic mason's apron and trowel he used.
On the upper floors of the tower, you'll see some intriguing, curious and sometimes bewildering displays, including a supposed replica of the Ark of the Covenant, a sword supposedly dating back to the Crusades, a collection of fezzes, and puzzlingly, a display on arteriosclerosis. All while listening to your guide offer some eye-opening background information on the order. And at the very top of the tower, you can get a panoramic view of the surrounding area, including the city that bears Washington's name.
IF YOU GO:
There is free parking at the site. Photography is allowed but no video. Admission to the first two floors is free, but there is a small charge for the guided tours to go up in the tower. No backpacks or 'improper' attire allowed inside.
WHEN TO VISIT:
The memorial is open every day except major holidays until 4:00 PM, with the last tour starting at 3:00 PM.
JURISDICTION: Washington National Masonic Memorial Association
Last Visited: October 2010
ADDRESS: 110 Callahan Dr. Alexandria VA 22301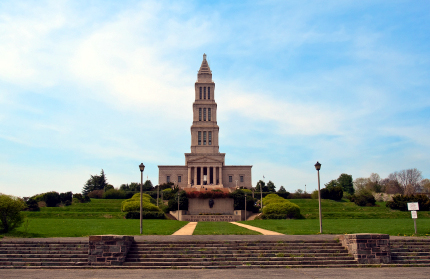 The Washington National Masonic Memorial
Photo courtesy of iStockPhoto.com / © Mikhail Kusayev