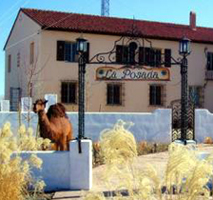 The
La Posada Hotel and Gardens
in Winslow, Arizona, is a great place to visit when driving Route 66 across Arizona. The La Posada was designed by Mary Colter and built in 1929 by Fred Harvey to be a Harvey House for the Sante Fe railroad.The La Posada is a listed as a National Historic Landmark and is a Route 66 Roadside Attraction.
The rooms at the two-story La Posada are all unique with colorful southwestern decor. The hotel has an eclectic mix of historical artworks. Antiques of all kinds and comfortable furnishings are found throughout the hotel. Printed guides are found in the main entry hall to help you explore the hotel, which you can do even if you can't spend the night. The hotel features two gifts shops/trading posts.
The La Posada's owners are doing an excellent job establishing sustainable desert gardens. Wandering the grounds is a real treat. And, if you enjoy watching trains while basking in the high desert sunshine, the La Posada won't disappoint. On some days as many as 90 trains pass by. Amtrak's Southwest Chief, both eastbound and westbound, make daily stops at the La Posada.
For a unique dining experience consider the Turquoise Room located in the La Posada. The Turquoise Room serves a Regional Contemporary Southwest menu with authentic Arizona Native American influences all made with fresh local ingredients. It's open for breakfast, lunch and dinner. Waitresses dress just like the Harvey Girls did.
A visit to Winslow isn't complete with a stop at the Standin' On The Corner Park. The park is a short walk west of the La Posada. Also, while in downtown Winslow, you might consider visiting the Old Trails Historical Museum and take a walk along the First Street Pathway to see the Peter Toth's hand carved totem pole.
IF YOU GO:
Visiting the La Posada is free (donations are accepted). Room rates range from $100 to $170. Prices at the Turquoise Room Restaurant are moderate to expensive.
WHEN TO VISIT:
Year-round, but the summers can be hot and it can snow during the winters.
JURISDICTION: Privately owned by Allan Affeldt and Tina Mion
INFORMATION VERIFIED BY Gerald Thurman: Last visit, June 2010
303 E. Second St. (Route 66), Winslow, Arizona 86407