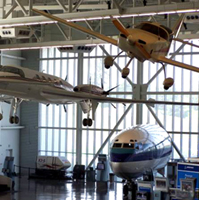 Just south of Seattle, near Boeing Field (King Co. Airport), sits an old red building resembling a barn. But its lineage is aeronautical rather than agricultural. This is where the Boeing Corporation had its beginnings in 1916 and operated until 1958. Today, as part of the Museum of Flight, the 'red barn' showcases a nostalgic look back at how aircraft were produced a century ago, using tools and designs that seem positively primitive today.

If you go:
Parking is free. Discounted admission is available to members of AAA. You can get a pretty comprehensive tour through the museum in a couple of hours, but there are also enough exhibits, films and other activities to occupy you for the entire day. Open 9 to 5 every day except Thanksgiving and Christmas. Open until 9 PM on the first Thursday of each month, with free admission after 5. Bi-plane rides are offered during the summer.
Links:
9404 East Marginal Way S.
Seattle, Washington 98108-4097 USA
Phone Numbers:
Visitor Information
+1 (206) 764.5720