Just south of Seattle, near Boeing Field (King Co. Airport), sits an old red building resembling a barn. But its lineage is aeronautical rather than agricultural. This is where the Boeing Corporation had its beginnings in 1916 and operated until 1958. Today, as part of the
Museum of Flight,
the 'red barn' showcases a nostalgic look back at how aircraft were produced a century ago, using tools and designs that seem positively primitive today.
But there's much more to see here than the evolution of Boeing. There is the evolution of flight itself, from a model of the French hot air balloon that first put men in the air to a full scale model of a space station module.
You can see an actual Concorde, one of only 4 on display outside Europe. Step aboard an early edition of Air Force One, preserved as it looked when it transported presidents Eisenhower, Kennedy, Johnson and Nixon. There is just about every type of flying machine here you've ever heard of, and a few you probably never imagined existed. View informative films and take rides on flight simulators, including one in which you control the maneuvers your virtual craft undertakes. For the truly daring, the Museum can even arrange an actual flight over Seattle in an antique bi-plane.
With its extensive exhibits, video screenings, research library, and educational presentations, the Museum of Flight is your one-stop location for hands-on learning about the fascinating world of flight. And if you have your own plane, you can even fly it in for a visit! The Museum also maintains a separate facility in Everett (north of Seattle) at which you can witness the process of aircraft restoration.
IF YOU GO:
Parking is free. Discounted admission is available to members of AAA. You can get a pretty comprehensive tour through the museum in a couple of hours, but there are also enough exhibits, films and other activities to occupy you for the entire day.
WHEN TO VISIT:
Open 9 to 5 every day except Thanksgiving and Christmas. Open until 9 PM on the first Thursday of each month, with free admission after 5. Bi-plane rides are offered during the summer.
JURISDICTION: Museum of Flight, Non-profit corporation
INFORMATION VERIFIED BY Dennis Goza by Telephone September, 2010
ADDRESS: 9404 East Marginal Way South, Seattle, WA 98108
(206) 764-5720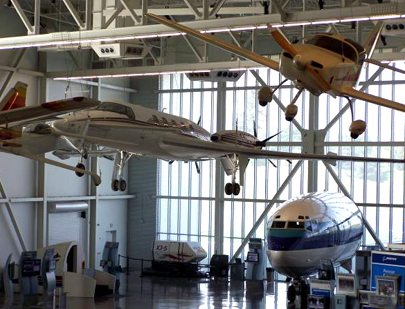 Worth the trip!
The Boeing Future of Flight Museum and the
amazing tour of the production plant near Everett, WA.
Photo courtesy of Lynne R. Christen