182 miles - 4 to 8 hours
Looking for a route slam packed with things to do and sprinkled with the unusual? This route has it all. Discover a canyon slap in the middle of Georgia, a town that holds probably the only Fire Ant Festival in the country, a city so small it doesn't even have a web page. Stop at the home of a president, visit a war memorial and cemetery, walk through some re-created villages and farms and much more.
Here are some highlights along the route.
Columbus, Georgia
(Starting point)
Located right next to the Alabama state line,
Columbus
has a rich southern history and is a Georgia city with a 'things to do' list that would easily enhance any traveler's itinerary. Step back into the past with a visit to the
National Civil War Naval Museum
at Port Columbus and walk into present day technology at the
Coca-Cola Space Science Center
. Take in all that Columbus has to offer, then head south to discover the other adventures on this route.
Lumpkin
(mile 38)
Lumpkin is where the
Providence Canyon State Outdoor Recreation Area
is located. Although the visitor center is closed, the park is open daily for a glimpse or a hike down what is known as 'Georgia's Little Grand Canyon.' Guides dressed in period costume will take you back in time at
Westville,
a re-created 1850s town. The Kiser Restaurant at Westville is open Thursday through Saturday and often features period dishes on its menu.
Plains
(mile 87)
Southern hospitality is one of the signatures of
Plains
, home to former President Jimmy Carter. Walk in President Carter's footsteps, and see some of the places in town that marked the early years of the 39th President and Nobel Peace Prize winner. The excursion train S.A.M., part of the Thomas Train adventures children so dearly enjoy, stops in Plains.
Andersonville
(mile 109)
Andersonville National Historic Site
is the spot where visitors can honor those who served their country from the Civil War to the wars of today. It was one time home to Andersonville Prison (Camp Sumter), one of the Confederacy's largest prisons. A driving path leads visitors through the countryside where the prison once stood. The National Prisoner of War Museum sits on the grounds, and nearby is the Andersonville National Cemetery, where the POWs who died at the prison are buried. It remains an active national cemetery.
Ashburn
(mile 149)
Imagine a festival named after that pesky, awful fire ant. The folks in Ashburn hold an annual Fire Ant Festival, and it sounds like they have a blast. Discovering the unusual does not end with the Fire Ant Festival in Ashburn. It is also home to the
World's Largest Peanut Monument,
and that is quite a site to see. And it gets even better. In Ashburn you can visit the
Crime and Punishment Museum,
learn the history of Georgia's chain gang and eat at the Last Meal Café.
Ty Ty
(mile 154)
Incorporated in 1906. Population 716. No web page. No email address. But the zip code is on the water tower. So what makes this speck on the map worth a stop? Two notable folks hailed from Ty Ty. For softball followers, the town claims
Darby Cottle Veazey
as one of theirs, and for Gospel music fans,
Jim 'Big Chief' Wetherington
called it home. And Big Chief's story is best told by his nephew, who brings Ty Ty to life with pictures and narrative, enticing the road tripper to stop at this charming southern small town.
Tifton
(mile 182)
This route wraps up in Tifton. This is where travelers will discover the
Georgia Museum of Agriculture and Historic Village
. The area encompasses over 95 acres and besides the historic village, visitors learn first-hand what it was like to operate a 19th Century farm. Water and electric hook ups are available for RVers wishing to stay a few days.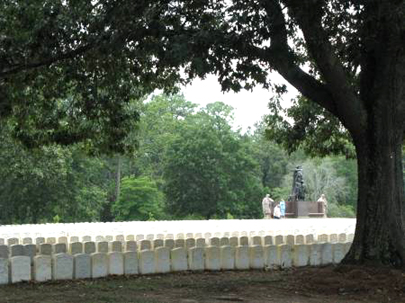 National Cemetery at Andersonville.