A visit to Seattle just isn't quite complete without a swing through
Pike Place Market,
which overlooks Elliott Bay in the bustling heart of downtown. Opened in 1907 as an alternative to grocery stores at which the price of vegetables had risen dramatically, the Market began as a farmer's market with the philosophy of 'meet the producers,' as opposed to the middlemen. It's still a farmer's market, one of the oldest in the nation, but it's also much, much more. The concept of 'producing' has been extended to artists, bakers, vintners and just about every other type of craft or merchandise you can imagine.
Work your way through the three floors of three buildings comprising about nine acres, and you'll likely encounter 3-D wood puzzles, spices, cheese, beads, flowers, glass, comic books, exotic clothing, and many, many other delights. The exact layout will vary from time to time, as some vendors rent their spaces short term.
But you can bet there is always seafood. In fact, the centrally located Pike Place Fish Market, whose entertaining workers throw fish to each other, has become a Seattle legend, inspiring the business philosophy book
Fish!
Also at this location is the first Starbucks store, which opened in 1971.
With its open-air setup, the Market lets you take in the colorful street life on one side, the tranquil ocean sights on the other, and the aroma of coffee everywhere - as well as the sounds of street performers, some quite talented, who also set up 'shop' here. Nowhere else can you find so much of Seattle concentrated into one convenient spot.
IF YOU GO:
You might want to check out the totem poles in Steinbrueck Park (on the north side), a favorite hangout for local colorful characters. To learn more about the Market's history and other tidbits of information, consider the Market Heritage Tour (Call 206-322-2219 to register or inquire. There is a fee for the tour.)
WHEN TO VISIT:
The Market is open every day except Thanksgiving, Christmas and New Year's, closing up in the evening – exact hours vary by specific merchant.
JURISDICTION: Pike Place Market PDA
INFORMATION VERIFIED BY Dennis Goza Last visit , September 2009
ADDRESS: First Ave. and Pike St., mailing address is 85 Pike St # 500, Seattle WA 98101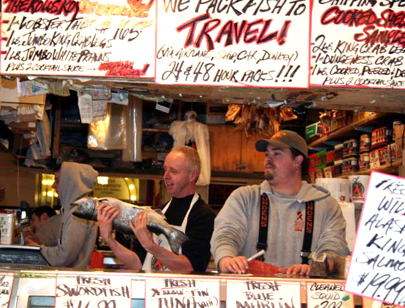 Watch for Flying Fish at the Pike Place Fish Market
Photo courtesy of Lynne R. Christen