Whether you've ever dreamed of being a rock star, or you just like to look back on the pop culture of your youth, or you like to delving into a vibrant American subculture, Seattle's
Experience Music Project i
s a place where you're sure to spend an engrossing day. Housed in a structure that also serves as a striking example of modernist sculpture (its exterior consists of defiant and expressive curves rather than straight lines), EMP boasts multiple floors of exhibits featuring musical instruments (including an exhibit showcasing the history of the guitar), stage wardrobe, artwork, and other memorabilia belonging to legendary musical entertainers. There are also rare video clips illuminating the history of pop music in America.
The exhibits have a particular focus on the rich musical heritage of the Northwest, with especially extensive coverage of Jimi Hendrix, a product of the Seattle area.
But this isn't merely another passive museum. Founded by Microsoft co-founder Paul Allen, the facility is high-tech in its presentation, and offers you the opportunity to exercise your inner rock star by playing on guitar or other instruments in a studio. You can even form your own band with your companions and record a professional-looking video to take home.
Also in the same building is the
Science Fiction Hall of Fame,
which does for science fiction what EMP does for music, paying tribute to generations of writers, illustrators, publishers and filmmakers. Both EMP and SFHF host frequent special exhibits in their respective fields.
Experience Music Project/ Science Fiction Hall of Fame is located in Seattle Center, next to the iconic Space Needle, the old-fashioned midway, the monorail station, a sports and concert arena, and several other attractions.
IF YOU GO:
Street parking is difficult in Seattle, though in this neighborhood, it's actually possible at times. There are convenient parking lots, and EMP is also easily accessible by public transit. You might want to allow time for some of the other attractions in the Center complex, including the Space Needle, the monorail, the midway, the Seattle Children's Museum, and one of the restaurants.
WHEN TO VISIT:
Open year-round. Summer hours are 10-7, winter hours are 10-5. Be sure to check the website for special temporary exhibits.
JURISDICTION: Experience Music Project, a 501(c)(3) non-profit organization
INFORMATION VERIFIED BY Dennis Goza Last visit , September 2009
ADDRESS: 325 5th Ave N, Seattle, WA 98109 (206)770-2700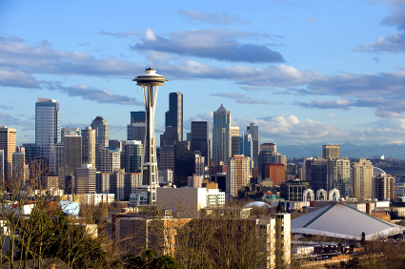 Experience Music Project is located in Seattle Center,
next to the iconic Space Needle
Photo courtesy of iStockPhoto.com / © Karen Massier