Nearly everyone in the U.S., if not in the world, has seen at least a photo of the Gateway Arch. And if you drive through St. Louis, it's impossible to miss. Standing near the intersection of two major freeways and with a height, as well as a base width, of 630 feet, it's the tallest monument in the nation, and its unique design is a marvel of modern engineering.
What many people may not realize is that there's more to The Arch than the arch. This offbeat steel structure, which is located only a few miles from where Lewis and Clark embarked on their epic journey, is part of the
Jefferson Western Expansion Memorial.
Beneath the arch and below ground level, where the visitors center is located, you can view films and exhibits about the Louisiana Purchase, the Lewis and Clark Expedition, and the role of this city and President Jefferson in the westward expansion of the United States.
The highlight of your trip, of course, is a ride to the top of the arch in basket-like mechanical trams that move you in a sort of zigzag pattern to the very top, where you have a splendid view of the entire city of St. Louis on one side and on the other side the Illinois suburbs, as well as of course the mighty Mississippi with its riverboats and barges. You also get an aerial view of the classic architecture of the
Old Courthouse,
which is part of the same national park, and is available for free tours. This is the courthouse where Dred Scott first sued for his freedom, leading to the landmark (and much reviled) Supreme Court ruling.

IF YOU GO:
There is no longer free parking close to this attraction. Nearest lot is on the riverbank, which is steep and rough with cobblestones. Security at the memorial is tight, and you won't be allowed to take anything inside that might be considered a weapon - even a knife. The ride up in the arch is not suitable for anyone with acute claustrophobia. If you're a sports fan, the stadiums for baseball's Cardinals and football's Rams are a short walk away.
WHEN TO VISIT:
The attraction is open daily year-round except for major holidays. The best time to avoid crowds is before 10 in the morning or in late afternoon/ early evening. (The memorial is open until 10 PM during the summer, although the Courthouse closes at 4:30.)
JURISDICTION: National Park Service
INFORMATION VERIFIED BY Dennis Goza: confirmed by phone 09/30/10
ADDRESS: 200 Washington Avenue, St Louis, MO 63102-2552
Memorial Dr. at Market St. (HQ at 11 N 4th St.), St. Louis MO 63102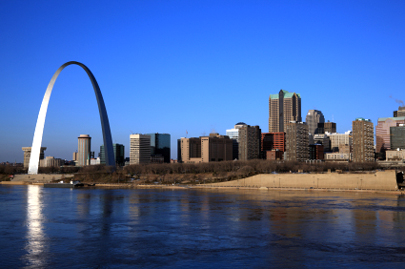 The St. Louis Arch is also known as the 'Gateway to the West'
Photo courtesy of iStockPhoto.com / © Jeremy Edwards