When someone speaks of going underground, they often mean going into hiding and participating in illicit activity rather than literally going down beneath the surface of the ground. The literal and the figurative meanings of the expression coincide on
Bill Speidel's Underground Tour,
which takes you on a walking tour beneath the streets of Seattle to learn about the city's vibrant past, including some rather shady characters and shenanigans.
It's a history of a terrible fire that destroyed much of the city, and the comically inept efforts to rebuild it by building the muddy streets up 20 feet higher than the sidewalks, and having to use ladders to cross the street. It's a history of horrendous plumbing that backfired when the tides came in, and of an abandoned underground complex that was used as a base of operations for prostitutes, opium dispensers and gamblers. It's a history that gave us the term 'skid road' (or skid row). It's a history related with verve and humor by the tour guides, who verbally bring the dead passageways to life. Some participants on the tour have even reported sensing the presence of ghosts.
The Underground Tour is located in historic Pioneer Square, and begins at Doc Maynard's Saloon, which dates from the 1890's and was named after one of the city's early developers.
IF YOU GO: Take comfortable shoes, this is a 3-block tour. Stairs are involved. Parking in Seattle is challenging, especially in this part of town - it's unlikely that you'll find street parking for this long, so plan on paying for a lot or garage or taking public transit. Tour is 90 minutes. All ages allowed, but young children may get bored. (A special adults-only version of the tour is available that gets a little more off-color.) Do not plan on using your cell phone during the tour - the guide will scold you!
WHEN TO VISIT: Tours are conducted year-round, though more frequently during summer. Part of the tour is at street level, and Seattle gets cold and snowy in the winter. And yes, it does get frequent (though usually not heavy) rain throughout the year.
JURISDICTION: Underground Tour and SubSeattle Tour web site.
INFORMATION VERIFIED BY Dennis Goza: Last visit, September, 2009
ADDRESS: 608 First Ave., Seattle WA 98104 206-682-4646, ext 202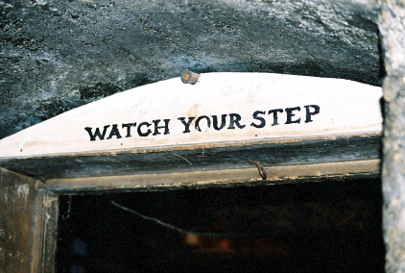 Low clearance in the Seattle Underground
Photo courtesy of iStockPhoto.com / © Sheila Broumley