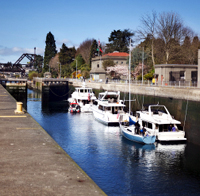 Photo by iStockPhoto.com (c) Jo Ann Snover
Although Lake Washington and Lake Union sit at an altitude more than 20 feet higher than nearby Puget Sound, boats of just about any size can travel smoothly between lake and ocean thanks to the Hiram M. Chittenden Locks, a set of two double gateways that seal off the vessels and adjust the water level within the enclosures. Constructed in 1917 by the Army Corps of Engineers, the visitors center for the locks is located in a classic castle-like building containing informative exhibits as well as an orientation film and a gift shop.

If you go:
Free guided tours, on a seasonal basis. There is a fish ladder viewing room open during the day. Parking is $1.50 More photos and information here. The park is open year-round, but it's especially fun to see adult salmon between June and November. Steelhead can be seen January to April and the baby salmon (smolts) are visible in May and June as they head to the ocean to mature.
Links:
3015 NW 54th St.
Seattle, Washington 98107 USA