256 miles - 8 to 10 hours
A road journey between Boston and Burlington is a perfect way to see the reds, oranges and yellows of autumnal New England. Salem, New Hampshire is home to the mysterious Amerca's Stonehenge and Vermont's Green Mountain National Forest provides ample viewing opportunities of hardwood forests and refreshing waterfalls. There's even a chance you might spot a Nessie-style sea monster before reaching Burlington, the largest city in Vermont.
Here are some highlights along the route.
Boston, Massachusetts
(Starting point)
Boston is home to the 'Big Dig' which has the distinction of being the most technologically challenging highway project in the United States. If you've driven in Boston in the 1990's you'll really appreciate this remarkable engineering marvel. Boston is one of those cities, that's fun to walk in and explore the historic areas. The
Boston city site
is a good place to start planning your own explorations.
Salem, New Hampshire
(mile 34)
Named for the iconic prehistoric monument in the English countryside, America's
Stonehenge
has mysterious beginnings. Whether the archaeological site originated with pre-Columbian Irish monks, early colonists, 19th-Century farmers or 20th-Century pranksters, the scattered stones form an accurate astronomical calendar that marks solstices, equinoxes and cross quarter days. America's Stonehenge also features snowshoeing trails and a small alpaca farm. Admission is $10.
Derry, New Hampshire
(mile 44)
High 5 Ballooning's
website promises it will be the best $200 you will ever spend. Climb aboard one of High 5's smiling hot air balloons, federally-registered aircraft that stand more than 70 feet in height, for an hour of spectacular bird's eye views of the Atlantic Ocean, Boston and New Hampshire's White Mountains, as well as the foliage-rich Merrimack River Valley.
Concord, New Hampshire
(mile 71)
After seeing the astronomical calendar in Salem and soaring over Derry, keep the sky theme going with a trip to the air and science museum. Named for two locals - Christa McAuliffe, a Concord teacher who died in the Space Shuttle Challenger disaster and Derry native Alan Shepard, the first American in space -the
McAuliffe-Shepard Discovery Center
has an observatory dome and planetarium, in addition to many exhibits.
Woodstock, Vermont
(mile 135)
Though not as well-known as the New York town of the same name - you know, the one with the music festival - Woodstock, Vermont, has plenty to offer. Discover the birds of prey at the Vermont Institute of Natural Science's Raptor Center before stopping by
Sugarbush Farm
. Cheese and maple syrup are Vermont's top edible exports and the Luce family, descendants of the farm's founders, are experts at making both.
Hancock, Vermont
(mile 184)
You can't drive through the Green Mountain State without seeing Green Mountain National Forest. Well, technically, you're allowed, but you shouldn't do it. Before taking the scenic drive along Route 125, make a pit stop in Hancock, located at the forest's eastern edge. The hike to
Texas Falls
, featured on many a postcard, is short and easy, but geologically interesting and incredibly beautiful.
Vergennes, Vermont
(mile 227)
Lake Champlain is a 440-square mile freshwater lake that separates northwestern Vermont from New York, and may or may not be home to a Nessie-style sea monster. Learn about the lake's history and archaeology at the
Lake Champlain Maritime Museum,
which is open seasonally from May through October. Museum highlights include guided boat tours to shipwreck sites and exhibits about Revolutionary War ships, including those used by Benedict Arnold.
Burlington, Vermont
(mile 256)
Downtown Burlington is anchored by the
Church Street Marketplace,
a pedestrian mall filled with live music, street performers, galleries, shopping and food, including the original site of Ben & Jerry's. If you'd like to take a guided tour, Lake Champlain Cruises, Burlington Brew Tours and Queen City Ghostwalk are all good ones. Which is the best? Well, that all depends on whether you prefer water, beer or dead people.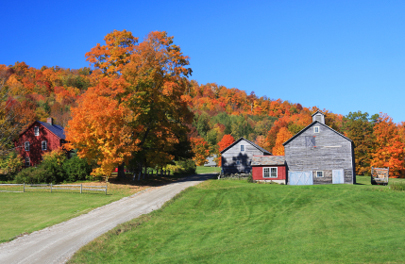 Autumnal splendor found along back roads in Vermont