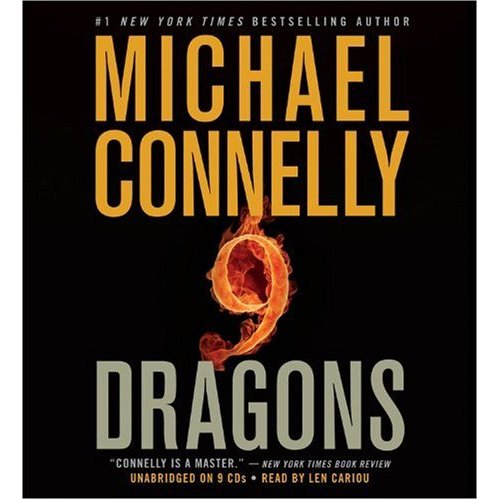 Nine Dragons is another electrifying story featuring Los Angeles homicide detective Harry Bosch. Now divorced, Harry's wife is living with their daughter in Hong Kong. Harry keeps in touch with his daughter via trips to Hong Kong and by phone and video. Harry is investigating the robbery and murder of a Chinese store owner. A suspect was seen on the store's surveillance camera but refuses to talk. Harry's investigation shows that the suspect is a prominent member of a Chinese triad known to be more dangerous than any L.A. gang.
After two days of unsuccessful questioning Harry receives a phone call telling him to back off and release the suspect. The Asian-accented voice indicates warns that there will be consequences if the suspect isn't released. Harry then receives a video phone call from his daughter showing her bound and gagged. Bosch is furious and after going over the video frame by frame he is convinced from scenes seen outside a window in the room where he girl is being held that he knows its general Hong Kong location. Harry flies to Hong Kong and joins up with his ex-wife and her Hong Kong boyfriend to try to locate his daughter. After an adrenaline charged series of terrifying encounters and nine dead bodies, Harry returns to the LA and finds himself having to realize that the original suspect is not the killer. The conclusion of the case is filled with one surprise after another and even the savviest armchair detective will be impressed with Connelly's finale.
Aside from the intricate plot with its unpredictable twists and turns, Connelly delivers a story that explores family relationships and how they shape choices and behavior. Harry may be a hard-nosed "take no prisoners" detective to the people around him, but on the inside he's an ordinary father whose little girl is missing. Seeing what it's like to be the victim makes him even more aware of his responsibility to solve crimes, find the guilty and protect the innocent. Len Cariou's presentation captures Harry's determination as well as his vulnerability. When the allure and mystique of Hong Kong is combined with fast-paced action, strong, sympathetic characters and convincing narration, the result is an audio book that's pure enjoyment.
Nine Dragons
Nine Dragons by Michael Connelly
Read by Len Cariou
Hachette Audio, unabridged: 11 hours on 9 CDs