155 miles - 4 to 8 hours
Although it is hard to beat a spring or summer in Florida, fall and winter have lots to offer too. Snowbirds flock to the state during this time, not just to get away from harsh winters, but to enjoy all the Sunshine State has to offer. This route provides year around fun and entertainment. Bring your camera, your appetite and your flip flops. Visit some dolphins, eat at the oldest diner in the state and visit the home of a Pulitzer Prize winning author.
Here are some highlights along the route.
Daytona Beach, Florida
(Starting point)
No matter what time of year it is,
Daytona Beach
is filled with entertainment. Probably most known for its spring break status, attracting thousands of college students each year, bikers also get a week of entertainment, during Bike Week in October. From Labor Day until New Year's, travelers can discover weekends filled with festivals. But for now it is time to head north, as more adventures are up the road.
Ormond Beach
(mile 6)
Just up the road from Daytona Beach,
Ormond Beach
is one of those white sand beaches perfect for strolling along the shore in search of sea shells or swim in the rolling surf or dig for
coquina.
Shopping, golf courses and good restaurants are also part of the beachfront town. And be sure to stop by
Tomoka State Park
and discover its rich history.
Flagler Beach
(mile 26)
What sets
Flagler Beach
apart from other Florida beaches is its unusual reddish sand, the product of an offshore coquina shelf. A popular fishing pier attracts the anglers and is a great spot to simply relax and take in the sights and sounds of the beach, located along the Scenic and Historic A1A Coastal Byway.
Gamble Rogers Memorial State Recreation Area
offers access to both the beach and the Intracoastal Waterway.
Marineland
(mile 41)
For road trippers looking for the opportunity to get up close and personal with those fascinating dolphins, stop at
Marineland
. Choices include petting dolphins, swimming with them or becoming a dolphin trainer for the day.
Palatka
(mile 88)
It's time to leave the beaches behind and head inland.
Palatka
is located along the shores of the St. Johns River. It features plenty of attractions and is home to
Angel's Diner
, Florida's oldest diner. Yum.
Cross Creek
(mile 131)
There are two attractions that draw travelers down this tiny country road off US-Hwy 301 that leads to Cross Creek,
Marjorie Kinnan Rawlings Historic State Park
and the
Yearling Restaurant
. Although the setting for the Pulitzer winning novel,
The Yearling,
was the Ocala National Forest, it was at Rawlings' homestead in Cross Creek where she wrote that novel and many of her other books. And the restaurant that bears the novel's title draws diners from around the state.
Ocala
(mile 155)
Some of Florida's most breathtaking scenery can be found in the rolling hills around
Ocala
. This is prime real estate for some of the best-known horse farms in the country. Ocala also has great shopping, numerous golf courses, plenty of restaurants and other attractions to enjoy.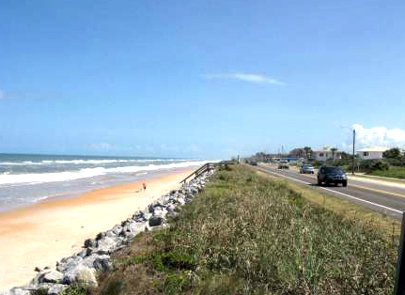 Scenic Highway A1A between Daytona Beach & Flagler Beach.