The Music House Museum
in Acme, Michigan is home to a one-of-a-kind collection of unique, authentic and playable instruments and music-making machines built and used from 1870 through 1930. The eclectic collection includes organ grinder boxes, a Belgian dance organ, nickelodeons, music boxes, pipe organs, and a Wurlitzer theater organ. Not only are all the instruments and machines in working order, but the docents will play some of them for you. Like a time machine, a visit to the museum lets you experience the music of bygone eras—live!
The Music House Museum provides guided tours and demonstrations in settings that include a 1900s-era hardware store and saloon. Be prepared to be fascinated and amazed as you stroll among antique instruments and a scale model of Traverse City as it looked circa 1930. To wind up your tour, stop by the museum gift shop, which offers a great selection of unusual items including beautiful clocks and musical instruments.
IF YOU GO:
There is a store and a museum and a guided tour which lasts about an hour.
WHEN TO VISIT:
The Music House Museum is the winter holidays, when the museum is beautifully decorated and seasonal carols are played. Dances are also held throughout the year featuring the huge Mortier dance organ, and the museum is also a popular venue for weddings.
JURISDICTION: Music House Museum is a non-profit corporation
Last visited: July, 2010
ADDRESS: 7377 U.S. 31 North, Acme, Michigan 49610
This is located eight miles north of Traverse City, Michigan on US-Hwy 31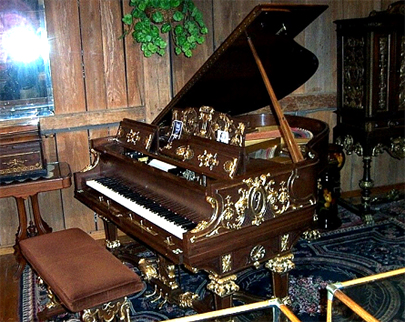 The Fisher gold gilded grand player piano
at the Music House Museum
Photo courtesy of Harry Kline