180 miles - 4 hours
Between Tallahassee and Ocala lie some of Florida's most intriguing state parks and two of its most beautiful rivers. You'll find plenty of good places to hike, ride horses, bike, canoe, swim and even snorkel. This route also encompasses two major universities, and the current and former state capital, historical sites and some surprising wildlife.
Here are some highlights along the route.
Tallahassee, Florida
(Starting point)
As the home of Florida State University (where the Seminoles football team enjoys a loyal following), Tallahassee is the state capital and also home to the
Lake Jackson Mounds State Archaeological Park
. The
Mission San Luis
is a living history center with costumed interpreters and buildings restored from the mission that operated here from 1656 to 1704. Another photo opportunity can found at the original state
capitol building
which opened in 1845 and was restored to its 1902 appearance in the 1970s. The tower provides a great view of the surrounding city.
Ichetucknee Springs State Park
(Mile 102)
The beautifully clear Ichetucknee River flowing through
Ichetucknee Springs State Park
is a fine site for swimming, snorkeling, canoeing and picnicking. But perhaps the best way to enjoy it is by taking a leisurely float on a tube, which you can rent at the park's entrance. You then just have to carry it a short distance to the point of departure for one of the river's magnificent floating routes, ranging from about 45 minutes to about 90 minutes, depending on the time of year. There's also an abundance of interesting wildlife, but don't worry, the alligators stay away from this spot, so swim with peace of mind - if you spot a long-tailed critter thrashing in the water, it's probably a river otter.
Gainesville
(Mile 142)
Gainesville is the home of the University of Florida, which like its Tallahassee rival, has a long and proud football tradition. While you're in town, be sure to check out
The Hippodrome
, a monumental theater, cinema and art exhibit complex housed in a Palladium Classical Revival structure that started its life as a federal building in 1911. Gainesville is also close to two other state parks with lots of recreational options:
Paynes Prairie Preserve
and
San Felasco Hammock
.
Ocala
(Mile 180)
If you are fascinated by drag racing and/or automobiles, then the
Don Garlits Museum of Drag Racing
might be just the ticket. If you are more in the mood for quiet reflection, then try
The Labyrinth,
a contemplative walking path that provides a sort of walking meditation. Just outside Ocala is another outstanding state park,
Silver River
. With miles of excellent hiking trails and a wide variety of wildlife, the park is a nature lover's delight. Rent a canoe and paddle up the river to its source, a deep spring pool located next to the visitors center and a 'cracker village' museum. You'll most likely pass at least one glass-bottom boat offering sightseeing tours, this is where the whole glass-bottom boat thing originated. The crystal clear warm water of the river was used for filming scenes from the old Tarzan movies with Johnny Weissmuller, as well as many other film and TV series. It's quite possible that you'll spot some monkeys skittering through the trees, but these are not, as legend has it, descended from monkeys used in Tarzan. They are descended from monkeys brought in by a showman to capitalize on the Tarzan connection. You'll almost certainly spot at least a couple of alligators sunning themselves on the banks and perhaps even slipping into the water and trailing along behind your canoe. This park also features a full-service campground, in case you want to stick around for more than one day.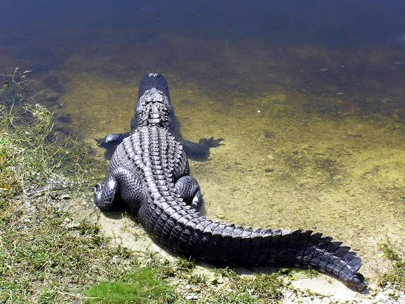 Large alligator keeps an eye out for kayakers....
Photo by Jerry Kendrick