101 miles - 3 to 4 hours
This postcard-perfect loop around the island of Oahu takes you through through jungle forests, around steep mountains and volcanoes, and along some of the most enchanting beaches in America. There is no private ownership of beaches in Hawaii, so you can take a dip just about anywhere the mood strikes you. A part of the route is on the Kamehameha Highway, named in honor of Hawaii's legendary king. It finishes with a visit to Waikiki Beach.
Here are some highlights along the route.
Downtown Honolulu, Hawaii
(Starting point)
You'll probably want to have your photo taken with the iconic statue of King Kamehameha. It's one of 4 similar statues known to exist, but this is the real deal - sort of. It's actually a copy made from the same mold as the original, which was intended for this location but was lost in a shipwreck, then later recovered and placed on The Big Island of Hawaii. Anyway, this one stands in front of the Judiciary Building, across the street from the
Iolani Palace
, which was the residence of Hawaii's last two monarchs and is the only royal palace in the U.S.
Find Hotels and Motels Near Honolulu
Pearl Harbor
(Mile 6)
The USS Arizona Memorial
at Pearl Harbor is a must-see when you visit Oahu. A boat will take you out to the point in the water where the battleship was sunk. It's still visible just below the surface, and it's still oozing oil into the water. Depending on the tour schedule, you should allow at least an hour for a visit, but be sure to take the time to browse through the informative exhibits as well. For more information,
Pacific Historic Parks
is a non-profit cooperating association with the National Park Service and manages the on-site Arizona Memorial Gift Shop. Pacific Historic Parks also maintains
a news and events blog
which you can use when planning your next visit to the Memorial.
Dole Plantation
(Mile 22)
The headquarters of the
number one producer
of the fruit that many associate with Hawaii started out as a roadside fruit stand in 1950 then grew into an empire. Be sure to allow an hour or so for the huge Pineapple Maze. Once you get hot and thirsty, you'll have an even greater appreciation for the frozen treats served inside the attraction.
Polynesian Cultural Center
(Mile 41)
The Polynesian Cultural Center
is a living history center offering interpretations of the folk traditions from several Pacific Island nations. The presenters are actual natives of the particular cultures they represent and present traditional music, dance, and crafts. You can witness a coconut tree climbing demonstration and even learn how to throw a spear. Visit this attraction when you have a full day and evening to spend, because the day culminates with a sumptuous luau followed by a nighttime outdoor theatrical extravaganza that includes fire dancing. Note that the PCC is affiliated with the Church of Latter Day Saints, and the proceeds help fund nearby Brigham Young University. (Don't worry, there's no proselytizing.)
Chinaman's Hat and Kualoa Ranch
(Mile 56)
Chinaman's Hat, a small volcanic formation, is one of the most photographed natural landmarks in the whole state. It's easily accessible by kayak - or even by wading at low tide - and takes about an hour to climb. Nearby is the
Kualoa Ranch
, an enormous cattle ranch that you've probably seen many times in movies and on television. It was used, for instance, in 'Jurassic Park' and on the TV show ' Lost.'
Kailua
(Mile 77)
Kailua is a rather quiet little city that sits next to one of the island's most peaceful (i.e. least crowded) beaches. It also features
Chip and Cookie
, a little shop owned by cookie legend Wally Amos, who previously founded (but now disavows) Famous Amos Cookies. Drop by, and the odds are very good that you'll catch him there sporting his hard-to-miss colorful wardrobe.
Hanuama Bay Wildlife Preserve
(Mile 86)
From high up on a cliff, this
horseshoe-shaped volcanic reef
is awe-inspiring. The best view, however, is found underwater. Don a snorkel and you'll observe more types of fish and other marine creatures (perhaps even an occasional giant turtle) than you probably knew existed. Plan on at least a couple of hours, if not a full day. Admission is charged, and the preserve is closed on Tuesdays.
Diamond Head State Park
(Mile 99)
A former volcano,
Diamond Head
is the distinctive mountain that sits in the background of those classic postcard shots of Waikiki. Allow an hour or so to make the strenuous climb uphill of nearly a mile, and then admire the interior of the dormant volcano.
Waikiki Beach
(Mile 102)
There's good reason it's one of the most popular beaches in the world. Whether your interest is surfing, swimming, or just lounging, this is a superb spot for it. And depending on when you come, it may not be as overrun with tourists as you'd expect. This is the perfect place to relax after a day of exploring the island.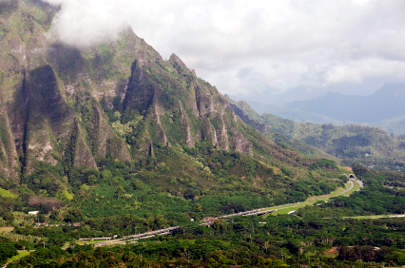 Highway and tunnels along the Ohau Mountains
Photo courtesy of iStockPhoto.com / © iShootPhotos, LLC