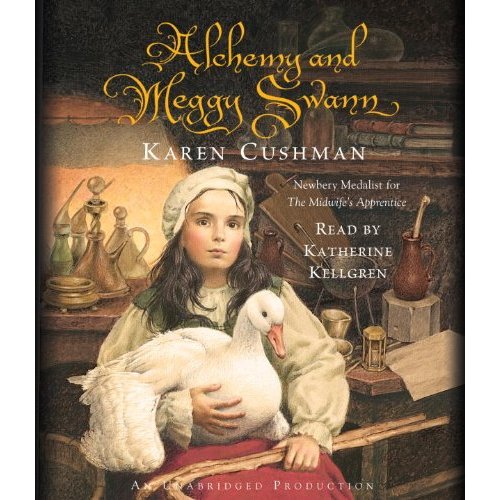 Rejected by an uncaring mother and left homeless by the death of her beloved Gran, Meggy Swann finds herself on her way to London to live with her father, an alchemist. When her father sees that his child is a girl and a crippled one at that, he ignores her, leaving Meggy to hobble around Elizabethan London on her walking sticks looking for food and friendship. Sharp-tongued Meggy is nothing if not resourceful. Although she curses her condition and the strangers she encounters, she not only survives but manages to make friends, foil a murder plot, and find love and a livelihood.
Karen Cushman's story is not only entertaining it is immensely informative. Facts about almost every facet of life in Elizabethan England are incorporated into the narrative. Class structure, dress, food, politics, entertainment, trade and transportation are just a few of the areas that Cushman describes as Meggy navigates the alleys, shops and homes of London.
In addition to the information provided in the story, the author has included an extensive note at end of the book where she talks about the use of broadsides, the grammatical rules concerning 'thou' and 'thee', alms houses and the impact Henry XIII had on the poor when he took over Catholic churches and seized their assets. She also describes Meggy's affliction, pointing out that children born with it today would be treated soon after birth and would never suffer the same pain and ridicule as Meggy.
Alchemy and Meggy Swann is remarkable as a literary work, but Katherine Kellgren's narration makes it a masterpiece of audio storytelling. She uses accents and dialects brilliantly for a wide range of characters - male and female, young and old, privileged and poor. An added treat is that she sings the songs and ballads that occur in the text, musically and magically transporting the listener to another era. Throughout the book, Cushman's messages of the importance of maintaining courage and hope in the face of adversity, doing the right thing and accepting differences in others are unmistakable. Coupled with Kellgren's exceptional presentation, this book is an important addition to the world of audio fiction. Highly recommended for all ages.
Alchemy and Meggy Swan
Read by Katherine Kellgren
Listening Library, unabridged: 4.25 hours on 4 CDs