64 miles - about 4 hours
This route delivers one of the twistiest roads in the western states and features rugged coastlines, tall tropical waterfalls and astonishing displays of tropical fauna. Its 600 curves and 54 bridges, many of which are still one-lane, offer challenge to the most seasoned road warrior. Photographers will drive this road with glee as they discover the exotic shapes of flowers and stunning scenery. The route winds through pineapple plantations, along black and red sand beaches, to the grave site of a historic aviator.
Here are some highlights along the route.
Kahului, Maui
(Starting point)
Kahului
is the largest city in Maui and the main arrival point for tourists seeking to explore the tropical paradise of Maui. It is also the gateway city for the
Haleakala National Park
, an inactive volcano on the south side of the island. A drive from Kahului to the summit at the national park passes through as many ecological and climate zones as journey from Mexico to Canada.
Paia Bay,
(mile 8)
Paia
was originally the site of a vast sugar worker plantation camp in the late 1880's. Today it's known for its eclectic shopping, art galleries, restaurants and the home of some of the best windsurfing on the planet. Ho'okipa Beach Park, is about three miles west of town and is considered the
windsurfing capitol of the world
and there are a number of competitions each year. If you have time for a meal, Mama's Fish serves superb fresh fish and offers great ocean views.
Haiku,
(mile 10 )
The Garden of Eden Arboretum & Botanical Garden
is a private attraction located at mile marker 10.5. It is a series of trails with over 500 botanically labeled plants. A great place to identify plants you make take photos of later in the day.
Keanae
(mile 31)
Keanae
has been an active village for hundreds of years, it's still a world-removed from the hustle and bustle of much of the Maui resort areas. A couple of canyons away from this spot is where the helicopter scenes in the movie
'Jurassic Park'
were filmed.
Keanae Arboretum
is another free park with two walking trails. There are about 150 varieties of tropical plants and trees.
Waianapanapa State Park
, (mile 47)
There's quite a bit of archeological research underway at this
state park
, but the real draw is the black sand beach and the fresh water pools in caves found in the park. The word Wai'anapanapa translates into 'glistening waters' in Hawaiian. According to local web sites, each year the waters in these caves turn red from the millions of red shrimp that appear. More information about this event
can be seen here
.
Hana,
(Mile 50)
The beaches around Hana
have both red, black and white sand. There are numerous lagoons and there are dozens of resorts to visit and enjoy this small town atmosphere.
Kipahulu
, (mile 64)
Kipahulu is a small farming town, with several attractions. It's also the gateway town to the eastern edge of the Haleakala National Park, so be sure to stop in at the
Oheo Gulch visitor center
and explore a bit of the 'Seven Sacred Pools.' Actually, officially there are no 'Seven Sacred Pools' - There a bunch of fresh water pools and waterfalls in this area and it's a gorgeous area for hiking. The Palapalo Ho'omau Church Cemetery contains
Charles Lindbergh's grave
. And there are a number of wonderful fruit stands along the road. A variety of tourists have reported that the
Laulima Farm
has the most amazing smoothies –
here is a photo
. From Kipahulu, I suggest you turn around and enjoy this route in reverse.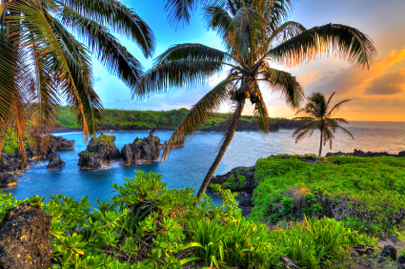 Waianapanapa State Park near Hana, Hawaii