143 miles - 3 to 4 hours
You can find a lot more than dairies driving along Wisconsin's roads. In the relatively short stretch between the metropolitan brewing mecca of Milwaukee and the vacation hot spot of Wisconsin Dells, you'll encounter the state capital, state parks and even, believe it or not, the de facto circus capital of the country.
Here are some highlights along the route.
Milwaukee, Wisconsin
(Starting point)
Milwaukee is beer, of course, but it's also much more. If you're going to be spending any time in town, however, it's certainly worth an hour of your time to take the
free tour of MillerCoors Brewery
, which until recently had been known as Miller Brewery, third largest in the world. It's also worth taking a tour of
Pabst Mansion
, constructed in 1872 by Capt. Frederick Pabst. This veritable castle is considered one of the finest specimens of Flemish Renaissance Revival architecture, but you don't have to know what that means to be awed by it. A nice way to kick back and get a panoramic view of the city is by taking a cruise
on the Milwaukee River
and out onto Lake Michigan.
Kettle Moraine State Forest
(Mile 30)
This large
state park
provides a wide range of outdoor recreational options, including hiking, camping, hunting and fishing. There are also noteworthy historic sites in the park, including three log cabins built by European immigrants.
Madison
(Mile 83)
Madison is the state capital, and its
capitol dome
is one of the most stunning you'll ever see. Standing 200 feet high, it's the only marble dome in the United States and inside the building you'll find an astounding total of 43 varieties of stone altogether. You may not be able to count them all, but you'll enjoy trying. Madison is also home of the University of Wisconsin, and is considered to be one the most progressive cities in the nation - it's sometimes called the 'Berkeley of the North.' And if you're up for some more heavy duty strolling, try the
Ice Age Scenic Trail
.
Devils Lake State Park
(Mile 120)
Devils Lake State Park
is another great place to explore nature in many ways, including camping, boating, swimming and biking.
Baraboo
(Mile 125)
Wisconsin may seem like an unlikely haven for circus performers, but the little city of Baraboo is where the Ringling Brothers established their famous empire in 1884. And
'Ringlingville'
is now part of
Circus World
, encompassing 64 acres of circus facilities, historic circus exhibits, and circus performances. Great fun for kids or anybody who's ever been one.
Wisconsin Dells
(Mile 143)
A small town with a lot going on. Reputed to have more water parks than any other place in the nation, as well as the largest water park,
Noah's Ark
and the largest combination water park/theme park,
Mt. Olympus
. The latter is hard to miss with its (presumably) full-scale replica of the Trojan Horse, through which runs a fantastic go kart racecourse. There's also plenty of miniature golfing in town as well as sightseeing rides on amphibious '
ducks
.' To get an even better view of the scenery, view it from a bird's perspective on the thrilling Bigfoot Zipline tours. But if you do nothing else in 'The Dells,' be sure to check out
Wizard Quest
. An interactive fantasy game for all ages, Wizard Quest gives you a chance to explore an enchantingly landscape laid out on two floors, as you search for clues and solve them within a 90 minute time limit. To get the full benefit, and to be more successful,you need a team or at least one other person to participate with you. A unique adventure!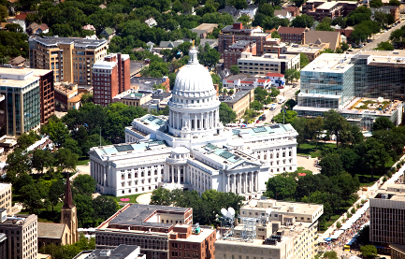 Wisconsin State Capital in Madison on a clear summer day
Photo courtesy of iStockPhoto.com / © Timothy Hughes