121 miles - about 6 hours
An alternative to using the Massachusetts Turnpike, this rambling route through central Massachusetts begins at the house where John F. Kennedy was born and proceeds in a westerly direction following historic US Hwy-20 and Massachusetts state highway 9 all the way to the Berkshires. Along the way are stops at sites that were inspirational to Longfellow, Dickinson and Melville. Better bring your camera, as this is one of the best places to capture fall foliage photos in New England.
Here are some highlights along the route.
Brookline, Massachusetts
(Starting point)
The route begins in this suburb of Boston where President Kennedy was born. Four years after his assassination, his mother restored the
house where he was born
, and it's now a national historic site. Brookline is also home of the nation's oldest automobile museum, the
Larz Anderson Museum
and the
Puppet Showplace Theatre
, which offers a different show each week featuring puppets from all over the world.
Sudbury
(Mile 18)
The rustic Wayside Inn
was built in 1716 and is now the oldest operating inn in the nation. It was immortalized by poet Henry Wadsworth Longfellow in his 1862 book
Tales of a Wayside,
a collection of stories in verse - the best known of which begins 'Listen my children and you shall hear, of the midnight ride of Paul Revere.' Step inside and look around, and you easily can imagine travelers huddled by the fire entertaining each other with stories a century and a half ago. And just down the road is the
one-room schoolhouse
immortalized in another rhyme, where young Mary Sawyer brought her lamb to school. It's a tiny building, so even if it's closed you can peek into a window and get a faithfully preserved glimpse of student life in bygone days.
Worcester
(Mile 39)
It rhymes with 'rooster,' and it's the home of
The John Woodman Higgins Armory Collection
, which houses an astounding assortment of medieval armor, ancient Greek helmets and other artifacts of warfare assembled in the early part of the twentieth century by wealthy collector John Woodman Higgins.
Amherst
(Mile 75)
Since this seems to be a poetic journey, you might as well have a look at the house where the legendary (and very reclusive) poet Emily Dickinson spent virtually her entire life, now
impressively restored and a museum
.
Northampton
(Mile 81)
Northampton is the home of the prestigious Smith College. It is also your chance to examine memorabilia of another president, Calvin Coolidge. The
Calvin Coolidge Presidential Library and Museum
isn't as big as its name suggests - it is in fact housed in the Forbes Library, making it the only presidential library contained within a public library. But it's hard to pass up a chance to see Silent Cal's 'electric exercise horse' on exhibit. Northampton also boasts several miles of
'rail trails' if you want to get in some bicycling
.
Pittsfield
(Mile 121)
Pittsfield is the home of yet another
literary landmark, Arrowhead
. This house, built in 1780, was where author Herman Melville lived from 1850 to 1862, during which time he wrote the masterpiece
Moby-Dick
. For an even more colorful window on history and tradition, visit
Hancock Shaker Village
, which consists of 18 historic buildings in a farm setting; you can experience Shaker culture up close, including music, dancing and crafts. Pittsfield is in the heart of the Berkshires and a good place to plan your hiking and skiing adventures for this part of New England.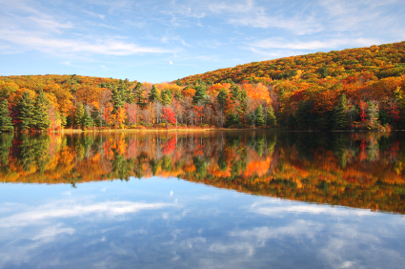 Fall foliage 'bloom' reflecting on a small pond in the Berkshires region of Massachusetts
Photo courtesy of iStockPhoto.com / © Denis Jr. Tangney