238 miles - 5 to 9 hours
Not all of Florida's Gulf coast consists of white sandy beaches. This route stops at the coastal towns of Tarpon Springs, a Greek community, and Cedar Key, one of Florida's older settlements, showing off another side of Florida's coastline. This is the route to follow if you want to meet the gentle manatee and watch some 'mermaids' perform. Gainesville and Tampa provide plenty of night-life excitement and shopping after a mellow day spent exploring the natural wonder of Florida.
Here are some highlights along the route.
Gainesville, Florida
(Starting point)
Head west out of
Gainesville
to start this route, but not before taking in some of what this college town has to offer. It's in Gainesville you can visit a zoo, and a planetarium, both at
Santa Fe College.
Take a tour of the
University of Florida
campus, where it is likely the
Florida Gators
are engaged in some exciting sporting event. Nightlife in Gainesville isn't half bad either.
Chiefland
(mile 40)
Traveling this route to
Chiefland
provides a peek at some of the vast farmland in the state, but there are still plenty of shops and restaurants along U.S. Highway 19. Follow the signs to
Manatee Springs State Park
where a spring flows into the Suwannee River. Getting close to nature at this park, gives the feeling you are in the middle of nowhere. (Or as we like to say here... Now Here...)
Cedar Key
(mile 71)
Restaurants, unique shops and condominiums dot this tiny town, which is a popular tourist destination. Fishing boats line up daily, as anglers eagerly look forward to casting their lines into some of the Gulf's richest fishing waters. The clamming industry thrives here and clams usually top the menus at the
Cedar Key
restaurants
. Rent a golf cart and explore the nooks and crannies on this island, or take a boat tour to some of the nearby keys inhabited only by wildlife.
Dunnellon
(mile 124)
This town is home to one of the prettiest state parks,
Rainbow Springs
. Meander through the gardens and waterfalls from the days when the park was a private attraction. Swim or snorkel in the springs, canoe or kayak down the Rainbow River or drive a little further down the road where tubers can travel down the river. A full camping area is also part of the park.
Homosassa
(mile 152)
Unlike most state park's,
Homosassa Springs State Park's
main attraction is a chance to observe manatees and many other captured Florida wildlife. Special Manatee show programs are scheduled several times a day and an underwater observation area provides visitors a chance to watch not just manatee, but some of Florida's freshwater fish.
Weeki Wachee Springs State Park
(mile 172)
A submerged theater is where visitors can enjoy several performances a day featuring
Weeki Wachee's world famous 'mermaids'
. Take the boat tour down the Weeki Wachee River. The state recently acquired this attraction, which also includes a small water park, and snorkeling, scuba diving and swimming in the springs. The grounds are well kept and the landscaping is quite charming, perhaps one of the reasons it is a popular spot for weddings.
Tarpon Springs
(mile 202)
This marvelous little Greek community is at times a little commercial, but still retains its heritage. The sponge industry was the main attraction bringing Greeks to Tarpon Springs on the edge of the Gulf, and the
sponge docks
are still a big draw. After enjoying a great Greek meal, stop at one of the bakeries or the fudge shops. Unique merchandise, from clothes to trinkets, fills the tiny shops that line the main and side streets.
Tampa
(mile 238)
Traveling south from Tarpon Springs, the Gulf coast once again turns to white sandy beaches. This route ends in
Tampa
, which has plenty of entertainment for sports fans from football to hockey.
Busch Gardens
is also located in Tampa. Fine restaurants, museums, an aquarium, great shopping and an exciting nightlife are some of the other draws to this city.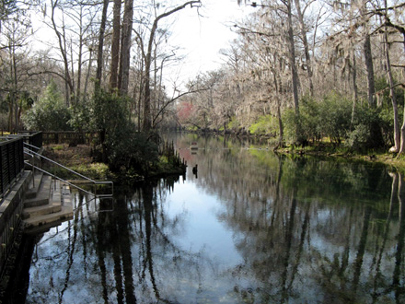 The crystal clear waters of Manatee Springs attract both swimmers and alligators...