106 miles - 2 to 3 hours
From the capital of the state to a capital seaside getaway, Maryland offers a pleasant drive along US Highway 50 and Maryland 90 that provides a fine sampling of the state's historical, cultural, natural and recreational treasures. This easy little route includes the Naval Academy, wildlife, beaches and roller coasters among other things.
Here are some highlights along the route.
Annapolis, Maryland
(Starting point)
The state's capital is also home of the
U.S. Naval Academy,
which was established here in 1845. Guided tours are available to the public. If you book some accommodations, well in advance, an especially impressive time to come is Commissioning Week (during May), when graduating cadets are transformed into fleet officers with much pomp and circumstance. For its historical significance, check out the
Maryland State House,
the oldest state house in continuous use and the only state capital to serve as the nation's capital. The Treaty of Paris, ending the Revolutionary War, was ratified here, and George Washington delivered his resignation as commander in chief of the Continental Army. Also worth seeing is the
Alex Haley-Kunte Kinte memorial statue,
which stands on a spot where slaves were unloaded from ships arriving here.
Wye Island NRMA
(Mile 20)
Wye Island Natural Resources Management Area
is a good place to get in some hiking, biking, boating, wildlife viewing and/or horseback riding. Every November, the park is home to Hunting Dog Field Trial Championships, which would be an incredible event to see in person!
Easton
(Mile 38)
There's no better place than the
Amish Country Farmers Market
to load up on baked goods, homemade jams and jellies and fresh produce, as well as some handcrafted gifts or souvenirs. You can even pick up some furniture if you wish! And the Amish aren't the only quaint religious denomination in town. The Society of Friends (Quakers) have been meeting here since 1684, and their
church building,
which is probably the oldest continuously used frame building in the nation, is open to the public.
Salisbury
(Mile 81)
Pemberton Park
offers 262 acres of nature trails, plus Pemberton Hall, a history museum housed in a plantation house erected in 1741.
Ocean City
(Mile 106)
If you enjoy thrill rides, you've come to the right place - or actually several places. There's
Trimper's Rides,
and
Jolly Roger Park
has two locations. At
Wild West Frontier Town
you can catch a 'wild west extravaganza,' a western-style holdup, Native American dancing and other spectacles. If you prefer lower key entertainment, there's always the beach and for a diversion that could be either thrilling or soothing depending on your disposition, you can soar 1000 feet above the coast in a small plane with
Ocean City Sky Tours
and take in the color of it all - especially if you choose the sunset tour.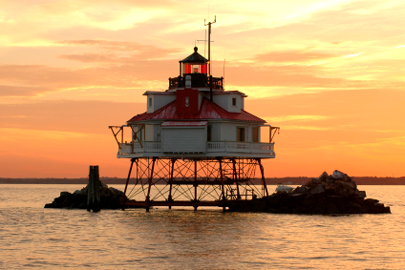 Thomas Point Lighthouse, in the
Chesapeake Bay off Annapolis, Maryland.
Photo courtesy of iStockPhoto.com/ © Michael Bagley