270 miles - about 6 hours
A drive across Lake Superior's south shore offers a variety of sights and attractions. Along this route you'll see beautiful waterfalls, great views of the largest fresh water lake in the world, visit some beautiful caves and take in some breathtaking fall foliage. And if that isn't enough, you can take a boat trip to visit some island lighthouses, see the world's largest and tallest Indian, and visit the home of organized skiing in the United States.
Here are some highlights along the route.
Superior, Wisconsin
(Starting point)
The route begins in
Superior, Wisconsin
just across the St. Louis River from Duluth, Minnesota. Superior has 28 miles of shoreline crowded with shipyards, grain elevators, many heavy industries, and some of the world's largest docks. Nearby
Amnicon Falls State Park
features a series of delightful waterfalls and rapids along the Amnicon River. The route then heads northeast on the Bayfield Peninsula.
Cornucopia, WI
(Mile 48)
Cornucopia
is a quaint little village on the southern shore of Lake Superior. Here there are pristine beaches for walking or swimming and a scenic river running through the middle of town. There are two waterfalls that can be reached by short hikes, a museum for more in-depth study of artifacts and stores and restaurants for shopping and dinning. The spectacular
Sea Caves
beautiful sandstone formations carved by the incredible force of Lake Superior can be reached by trail, kayak or canoe. In the winter, they can be reached by walking on the frozen surface of Lake Superior for some spectacular winter views.
Bayfield, WI
(Mile 74)
Bayfield is the crown jewel of the Bayfield Peninsula and the gateway to
Apostle Islands National Lakeshore
. There are tours of the islands available here, along with kayaking, canoeing, sailing and fishing. During the fall, the old-growth hardwoods produce vibrant colors and provide some of the
best fall foliage tours
available in this area. There are several fall festivals here as well as winter activities focused on Thanksgiving and Christmas.
Ironwood, MI
(Mile 121)
Ironwood is the western gateway to Michigan's Upper Peninsula and is the main trading, lumber, and winter sports center of the region. Ironwood is also home to
Hiawatha
, the world's largest and tallest Indian -- he towers over 52 feet tall. He's made of fiberglass, weighs 16,000 pounds, and can withstand winds over 140 miles an hour.
Ishpeming, MI
(mile 270)
Ishpeming
is thought to mean 'high place' or 'heaven' and is a well known ski center. It is home to the
National Ski Hall of Fame
. Organized skiing began here in 1887 when three Norwegians started a ski club that grew into a national ski association.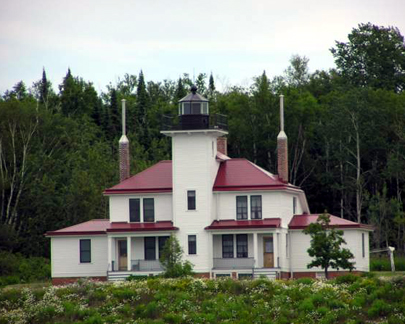 Raspberry Island Lighthouse on the Apostle Islands