129 miles - About 5 to 8 hours
Swooping inland roads that amble through rolling hills and beautiful forests are only the beginning of a route that sweeps north through a 'live-fire' military zone and a rapid descent to the southern part of the famous Big Sur highway. Breath-taking ocean views, elephant seals and abundant sea birds give way to the sophistication and charm of the town of Cambria and the magnificent, if ostentatious, Hearst Castle.
Here are just a few of the highlights on this route:
Paso Robles, California
(Starting point)
Paso Robles
is located half-way between Los Angeles and San Francisco on US-Hwy 101. It has become the center of a fast-growing wine country region. The soil to the west of Paso Robles is rocky and chalky and presents a tough growing environment, which surprisingly is exactly what vintners prize in this area. This inhospitable and steep terrain found on the surrounding slopes of the Santa Lucia Mountain range is also blessed with heavy winter rains - some years that can reach 25 to 50 inches. It is this unusual combination of chalky soils, abundant rainfall and the rocky high elevation that seem to produce grapes & olives of extraordinary quality. In the summer months, temperatures rise providing the ideal growing conditions for grapes which are then tempered each evening by the cool coastal breezes. Paso Robles is also home to the mid-California state fair each July and is earning a reputation for art and auto collection shows. What is stunning to realize just how many wineries there are in this region.
Click here
to view the locations. Some of my recommended wineries include Peachy Canyon, Opolo and Zenaida, though everyone has their favorites.
Find Hotels and Motels Near Paso Robles
Adelaida Cellars
(mile 9)
Adelaida Cellars
is located near the top of the mountain range and provides a wonderful view of the surrounding region and a great place to pause and enjoy their tasting room.
Lake Nacimiento
(mile 47)
Lake Nacimiento
is also known locally as Dragon Lake because its inlets and coves sort of look like a dragon's tail. There are a couple of privately owned marinas with campgrounds and vacation homes.
Fort Hunter Liggett
(mile 55)
The full name of this US Army base is
U.S. Army Garrison Fort Hunter Liggett.
It is a training base for special operations and a variety of Army units. Much of the base is a 'live-fire' facility. The military reservations has some great road trip roads, but during periods of training, they're closed to the general public. There is a gate just beyond the town of Jolon with a sentry, but access to the road to the coast is generally allowed. If you have time (and the road is open) take the side trip up to the main headquarters. There is a property known as 'The Hacienda' that was owned by Willam Randolf Hearst and was designed by the famous architect Julia Morgan. From time to time it reopens as a public hotel - although it seems to be closed currently.
Piedras Blancas Elephant Seals Rookery
(mile 105)
A sensational coastal drive with breath-taking ocean views south on Cabrillo Highway to Cambria. You will see signs directing you to parking areas for the
Elephant Seal rookeries.
There are often docents in blue jackets who can answer questions about the seals. The rookery produces about 2000 pups most years. The elephant seal breeding season begins at Aņo Nuevo in December, when the first males arrive. From fourteen to sixteen feet long and weighing up to 2 1/2 tons, these huge bulls engage in violent battles to establish dominance. The successful bulls do much of the breeding, with most of the duty falling on the 'alpha'bull at the top of the social ladder.
San Simeon,
(mile 118)
San Simeon
is the gateway town for exploring
Hearst Castle State Park.
When in town, be sure to walk out to the public pier at the William Randolph Hearst Memorial State Beach, it provides a great place for fishing (no license required) and also an amazing spot to watch Pelicans and other sea birds hunting prey in the rich waters of the bay. San Simeon is also the southern end of the Big Sur coastal drive.
Cambria
(mile 129)
Cambria
is one of the rare towns in California that have held-out against national chain retail stores so continue to attract visitors with quaint shops, historic architecture, art galleries and a gorgeous location. Take a seaside walk on the bluffs to the town's south or just put your feet up, uncork a bottle and enjoy the best of the Central Coast! If your road trip plans include a return to Paso Robles, the drive along CA-Hyw-46 is a glorious driving road and its swooping curves and hillocks make for some great European-style driving.
Find Hotels and Motels Near Cambria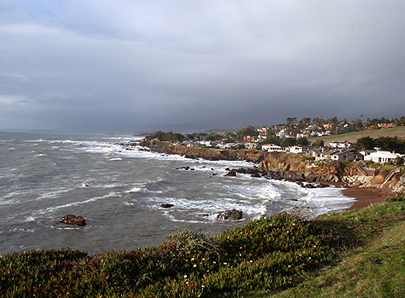 The very pretty town of Cambria