356 miles, about 12 hours
'South of the Border' is a classic road trip attraction along America's longest north-south Interstate Highway. But this route is also the gateway highway for exploring the spectacular coastline of South Carolina from the idyllic beaches of the Grand Strand to the low country's marshy sea islands. Crossing into Georgia, Savannah beckons with rich history, Spanish moss and ghosts.
Here are a few of the highlights along today's route:
Dillon, South Carolina
(Starting point)
South of the Border
, a roadside attraction known for its sombrero-laden mascot, is just south of the South Carolina border on I-95. Over the last 60 years, it has evolved into a gargantuan rest stop that is purposely campy and aggressively tacky, which is just part of its charm. South of the Border's most notable alum is Financial Reserve Chairman Ben Bernanke, who paid his way through Harvard working as a character waiter during summers.
Florence, South Carolina
(mile 34)
Back in 1958, an England-bound U.S. Air Force B-47 accidentally dropped an atomic bomb on Mars Bluff, a tiny unincorporated community in Florence County. Though the TNT destroyed a house and left a 70-by-35-foot crater in its wake, the plutonium failed to detonate, which is why Florence County still exists. Bomb fragments hang on display at the
Florence Museum of Art, Science and History.
Admission is just $1.
Myrtle Beach, South Carolina
(mile 105)
Thrill rides, water parks and one of the world's largest reptile zoos. Bars and nightclubs crawling with drunk fools on Spring Break. Outdoor shopping malls galore. A world-class golf course and a 312-acre state park - all of this is
Myrtle Beach
. Myrtle Beach's best attraction is also free, namely the pristine, sugar-like beaches.
Pawleys Island, South Carolina
(mile 135)
Pawleys Island
is part of the same 60-mile stretch of beaches, known as the Grand Strand, a nod to the German word for beach coined by a local newspaper columnist in 1949. But it's not nearly as crowded as Myrtle Beach, which attracts nearly 15 million visitors each year. Pawleys Island is perfect if you're looking for a more peaceful, quiet place to lay out, swim, surf, fish and crab. Still largely undeveloped, this laid-back, breezy barrier island is proud to be 'arrogantly shabby.'
Charleston, South Carolina
(mile 203)
South Carolina's oldest city is also arguably its best-preserved. Lined with palmetto trees,
Downtown Charleston
is filled with 18th-Century buildings, stately antebellum mansions and prominent historic churches. Take in the views on a (really long) walk across the Arthur Ravenel Jr. Bridge, the most expansive cable-stayed bridge in the western hemisphere, before enjoying some of Charleston's renowned seafood. Be sure to thank your server, since Charlestonians have the best manners in America, according to late etiquette writer Marjabelle Young Stewart.
Edisto Island, South Carolina
(mile 239)
When Frank Gadsden died this past winter, his hammock was taken down. Locals would correctly interpret 'his hammock' as 'the full-sized mattress he hung from the thick limbs of an oak tree.' However, the rest of Edisto Island's arboreal tribute to all things ridiculous still remains. In the middle of a dry bog on Route 174 sits the
Mystery Tree
, which an anonymous islander periodically decorates to reflect the season. Up the road is a hula girl tree whose bikini top modestly covers two large knots in her trunk.
Beaufort, South Carolina
(mile 280)
If you've ever proposed marriage to someone who said no and felt compelled to just run and keep on running, you are not alone.
Forrest Gump
did it, spontaneously embarking on a transcontinental jog from his home state of Alabama. When Forrest crossed the Mississippi state line, in the movie, he was actually in Beaufort County, on the Chowan Creek Bridge that connects Lady's Island and St. Helena Island. The movie's Vietnam War scenes were also filmed nearby in Hunting Island's marshy maritime forests.
Savannah, Georgia
(mile 357)
From Beaufort, take a scenic drive through the beautiful sea islands of the Carolina low-country. Follow the Okatie Highway to Route 17, which leads you right into Savannah. With Gothic architecture and tunnels of low-hanging Spanish moss, the historic location of Georgia's first capital is worth checking out. A place of diverse accolades,
Savannah
was named the most beautiful city in North America by Condé Nast Traveler, as well as being the American Institute of Paranormal Psychology's most haunted city.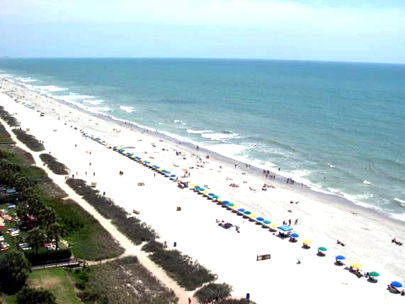 Myrtle Beach is South Carolina's top tourist destination.