216 miles - about 6 hours
Leaving the hustle and bustle of New Orleans, get transported back in time cruising along 'Plantation Alley' on this leg of the Great River Road. The Great River road is a collection of highways that follow the mighty Mississippi beginning in Lake Itasca, Minnesota and stretching all the way down to Venice, Louisiana. This is not one road, but rather they are assemblage of highways that trace this historic American river. This route visits historic antebellum mansions, haunted plantations, and a nature preserve that is home to animals not found anywhere else in Louisiana.
Here are some of the highlights to look out for along the way:
New Orleans, Louisana
(Starting point)
La Nouvelle-Orleans (New Orleans)
was founded May 7, 1718, by the French Mississippi Company. New Orleans is full of history, music, architecture, good food, and lots of things to do.
Plantation Alley
(Mile 55)
Louisiana's Great River Road, also sometimes known as 'Plantation Alley,' is home to 30 antebellum mansions and 10 other historic properties that sit on bluffs overlooking the Mississippi. Surrounded by sugarcane fields and pecan groves, they are all are open for tours or have been converted into hotels or bed and breakfasts.
Baton Rouge, LA
(Mile 135)
Baton Rouge
, the capital and the second largest city in the state of Louisiana, was founded in 1699 by a French explorer. You can check out the Louisiana Castle, which is the older capitol building.
St. Francisville, LA
(Mile 170)
Established in 1809,
St. Francisville
is called the town 'two miles long and two yards wide' because it was developed atop a narrow ridge overlooking the Mississippi River. It was the commercial and cultural center of the surrounding plantation country. It's also home to the beautiful and haunted Myrtles plantation.
Tunica Hills
(Mile 182)
Tunica Hills
is comprised of 5,905 acres owned by Louisiana Department of Wildlife and Fisheries. There are rugged hills, bluffs and ravines. The diverse habitat is home to some species of plants and animals that are not found elsewhere in Louisiana. Tunica Hills offers a variety of outdoor recreational activities such as hunting, trapping, birdwatching, hiking, horseback riding, bike riding, sightseeing, photography and scientific study. There is also a nature trail.
Natchez, Mississippi
(mile 220)
Natchez
is the oldest settlement on the entire Mississippi river, and was founded by French colonists in 1716. It was the first capital of the Mississippi Territory in 1798, and the first capital of the state of Mississippi in 1817. It is the southern terminus of the Natchez Trace Parkway, which extends to Nashville, Tennessee. Consider a drink at the notorious
Under the Hill Saloon
. (And if you go for a few more, the Mark Twain Guest House is within stumbling distance!)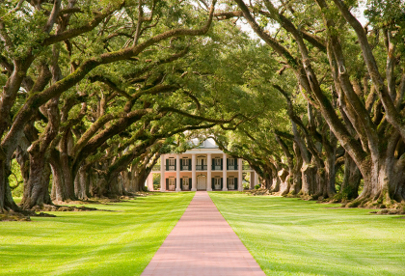 300-year-old oaks at the Oak Alley Plantation
await your arrival along Plantation Alley