76 miles - 1.5 to 4 hours
There are lots of different 'seasons' that attract visitors to Georgia - when the peaches ripen, when the apples turn red, when it's time to dig peanuts, when the pecans begin falling from the trees and when the leaves turn colors. This route showcases the beauty of the Georgia apple country. And if there is a bit of fall in the air, this is a great route to view the leaves' colorful show.
Here are a few highlights along this route:
Marietta, Georgia
(Starting point)
Starting in
Marietta,
the first leg of this trip includes about 30 miles along Interstate 575 North. Then it's time to leave the interstates behind and travel along the less traveled highways. However, before departing Marietta, be to tour the city. There are walking tours, trolleys, and carriages waiting for you in Marietta.
Jasper
(mile 45)
When in Rome do as the Romans do, and it is Jasper where those in Georgia go for a great meal and unique lodging experience. Discover both at the
Woodbridge Inn,
where the menu is distinctive, the rooms quaint and the prices right. And the view is wow.
Talking Rock
(mile 50)
Most road trippers love stumbling across unique, unusual finds on road trips, and
Talking Rock
is one of those places. This little itty bitty town takes pride in being the state's third smallest town and being much the same as when it got a spot on the map in 1883. Antique shops and gift shops dot Main Street.
Ellijay
(mile 65)
Ellijay
is king when it comes to finding and enjoying those wonderful Georgia apples. Yum. From August to December, Highway 52 East is known as Apple Orchard Alley. And even in July the delicious small-sized 'early apples' make their appearance in roadside stands. Late October and early November are perfect times to enjoy the leaves turning color.
Blue Ridge
(mile 76)
The road from Ellijay to
Blue Ridge
twists and turns through the breathtaking Chattahoochee National Forest. At the edge of town, the historic Blue Ridge Depot greets visitors, with a variety of quaint shops and charming restaurants, nestled among the gorgeous landscape.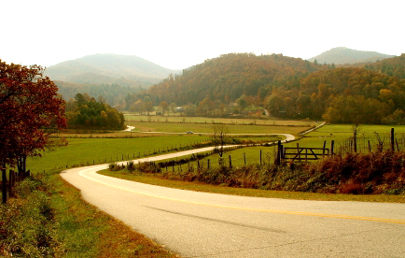 Apple farms beckon on nice fall day in Georgia