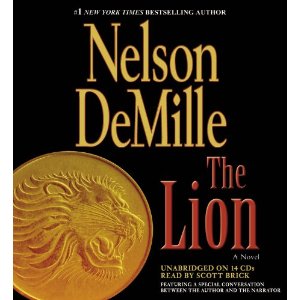 Asad Khalil, also known as The Lion, has returned to America with the intention to complete his earlier mission, which was to assassinate all the pilots who took part in the bombing of Libya that killed his entire family in 1986. Three years earlier he killed all but one of the pilots. He was unable to complete his mission because of Detective John Corey and his wife, F.B. I. agent, Kate Mayfield. He narrowly escaped, but told Corey he would return and would kill the pilot, as well as John and Kate.
In this fast paced race to the showdown between Corey and Khalil, it will be hard to set this book aside for any length of time. The Lion has no conscience, no regrets, no remorse. He kills not only his victims, but anyone who happens to be around as well as anyone who has helped him and could potentially identify him. He has succeeded in killing the last pilot and seven others along the way, vowing that he has will kill John and Kate before he leaves America. Although they, the FBI and the entire police force cannot locate The Lion, The Lion finds them...at 15,000 feet above a sky divers' drop zone.
Probably the most exciting moment in the story is what happens when The Lion sneaks into the group that is gathering to make a free fall from 15,000 feet out of a plane. As John and Kate leave the plane for the free fall into space John senses something is not right and turns to see Khalil clinging to Kate with a knife at her throat. The F.B.I. and police are determined to capture The Lion alive so they can get information from him, but after Kate's near death experience Corey is determined to kill Khalil and the rest of the book is a cat and mouse game of kill or be killed.
DeMille's stories are never lacking in drama, suspense, intrigue and historical and political insight. The Lion is no exception, with its discussion of the events leading up to and following the tragedy of September 11, 2001. As usual Scott Brick, the reader does a remarkable job in giving life to each character. He has the uncanny ability of voice control that allows the listener to hear and sense the emotions of the characters. Through Brick's brilliant interpretation, the listener feels apprehension, fear, sorrow, elation, confusion and many more emotions that the characters suffer. That talent is a rare gift that Brick shares with his listeners, making them devoted fans.
While Scott Brick makes John Corey familiar and likeable, it is DeMille who has created the strong character who is so admired by both men and women. Corey makes mistakes along the way, but his determination to triumph over Khalil and the evil he represents is pure and sincere. The final eventful meeting of the two will leave listeners in stunned silence. When you catch your breath, you will agree that this is a great book. As an added bonus, in a special interview at the conclusion of the book, DeMille discusses John Corey and some of the other characters he has written about, describing how closely they resemble each other and what traits they share with him. Fascinating commentary from a remarkable author.
The Lion
The Lion by Nelson DeMille
Read by Scott Brick
Hachette Audio, unabridged: 15.5 hours on 14 CDs