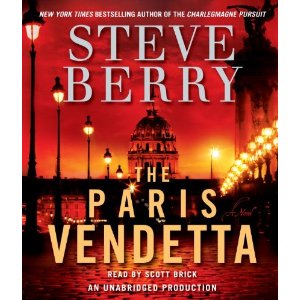 Posing as a mild-mannered bookstore owner, Cotton Malone, once again exposes his clandestine ex-government operative roots when he reluctantly comes to the aid of a young intruder who happens to be a U.S. Secret Service Agent. The agent, Sam Collins, breaks into Malone's Copenhagen bookstore to escape would be assassins and convinces Malone to help him.
Because he was sent by a mutual friend, billionaire Henrik Thorvoldsen, Cotton cannot refuse and soon finds himself ensnared in a web of international intrigue. Using the ruse of exposing the Paris Club, an organization of powerful and wealthy business people whose goal is to control the world economy, Henrik recruits Malone to carry out his real agenda, avenging his son's death by trapping and destroying his murderers. In addition to wanting to dominate global business, members of the Paris Club also have a secret agenda, discovering and retrieving stolen riches that Napoleon Bonaparte is suspected of hiding before his death.
These people don't play nice, and the stakes are very high, so it's no surprise when an evil terrorist monster is hired to give the bad guys the advantage. Cotton Malone, with the assistance of reporter Katie James and Sam Collins, not only must follow obscure clues to find Napoleon's treasure first, but he must thwart the terrorist's sadistic and catastrophic attempts to help the Paris Club achieve its goal of global economic chaos.
What I love about Steve Berry's series is that they're historical mystery thrillers. There's just enough plausible historical innuendo to send me running to the computer to research the actual events and characters mentioned. The result is usually new knowledge, insight and understanding of the past. In Berry's novels there is the added delight of electrifying plots full of intrigue, suspense, danger and human interest. Cotton Malone is a very likable character, made even more so by Scott Brick's masterful and convincing interpretation of his strengths and vulnerabilities.
This book has the added bonus of being more than just an entertaining audio book with an engaging plot, thrills and well-defined characters. By giving Malone a dilemma to resolve involving friendship, Berry leads the listener to engage in personal reflection as the book ends.
The Paris Vendetta
by Steve Berry
Read by Scott Brick
Random House Audio, unabridged: 13.5 hours on 11 CDs