267 miles, about 5 hours
Hundreds of thousands of road trippers and other highway travelers zoom between Los Angeles and Las Vegas every year, but few know of the extraordinary delights found at virtually every off-ramp on I-15. Three significant mountain passes, historic desert routes, a section of Route 66, famous gold mines and dozens of ghost towns, roadside attractions, scenic wonders and more banana memorabilia than you ever thought existed in the entire world await the adventurous road tripper.
Here are a few of the highlights along today's route:
San Bernardino, California
(Starting point)
San Bernardino
was first settled in the early 1800's and became a center of Spanish culture with the construction of dozens of elaborate haciendas and ranchos in the mid 1850's. Kit Carson and Jedediah Smith and other trailblazers had homes here. Today, San Bernardino is the county seat and home to one of the best car shows in America. The
Route 66 Rendezvous
is a 4-day and 3-night cruisin' classic car show that encompasses 35-blocks of downtown. Open to vehicles from 1900-1973, classics, muscle cars, hot rods, and trucks cruise the historic streets of San Bernardino.
Find Hotels and Motels Near San Bernardino
The Little League Western Region Headquarters
(mile 9)
Visible from I-215 is one of the practice fields for the
Little League Western Regional Headquarters
, but the property also has a with a Major League field that seats approximately 8,000, and where each year the Little League Major Division Regional Tournament is played. Players and coaches from eleven western states: California, Hawaii, Oregon, Washington, Alaska, Wyoming, Montana Idaho, Utah, Nevada, and Arizona converge each year in the summer months.
Route 66 and the Blue Cut historic marker
(mile 14)
This is an old section of the famous 'Mother Road.' I-15 will parallel this historic road all the way into Barstow. There are some famous viewpoints along this road – Look for Blue Cut if you dare…Actually, this is an area of geologic interest and a one-time rest stop along Route 66.
Mark Sedenquist's Favorite Train Viewing Spot
(mile 25)
I-15 cuts through San Bernardino National Forest, which is literally bigger than Rhode Island. One of the best places to watch the extra long railroad trains as they work their way up or down the precipitous grade of Cajon Pass is found a couple of miles west of I-15 on CA-Hwy-138. Turn south on Lone Pine Canyon Road and immediately turn left into the dirt lot overlooking the highway for some of the best viewing of train operations in the area. A couple miles west of this viewpoint is
Mormon Rocks, a very interesting geologic phenomena.

Hesperia, California
(mile 32)
Have you ever seen a banana decked out in gold sequins in honor of Michael Jackson? No? Stop by Hesperia's
International Banana Club Museum
at 16367 Main Street, which is listed in the Guinness Book of World Records as the world's largest collection dedicated to a single fruit. Ten bucks will get you a lifetime membership to the club. You can even pick your own title, though 'Top Banana' is already taken. (Note: The Banana Club Museum has moved to Apple Valley, the link still works).
Barstow,
(mile 81)
Barstow is a classic Route 66 town with an interesting train and geologic history. Route 66 runs through the center of town and then heads southeast to follow the I-40 route. This little detour to the old train station provides a view of Barstow that few I-15 travelers ever see. There is a very
good Route 66
and
Railroad (WARM) museum
at the historic Harvey House. There's also a very good steak house along this route known as the
Idle Spurs.
Yermo, California
(mile 107)
The mining town of Calico
boomed during California's largest silver rush back in the late 1800s. It was once owned by the founder of Knott's Berry Farm and has been a regional county park for several years. Several of the original buildings remain and there are a number of
festivals and events
each year. Yermo is also home to one of the more unique racing tracks in the world, it was developed to conduct speed trials for tanks and other armored personnel vehicles for the army. Actually, the variety and scope of attractions in Yermo would require a new article.
Zzyzx Road
(mile 156)
People have been living and working in this area for hundreds of years. In the 1800's this road led to a small army outpost known as Camp Soda, but it was developed into the Zzyzx Mineral Springs and Health Spa by 'Doc Springer' in 1944. Unfortunately Curtis Springer didn't actually own the land and the Federal government waited until he had created a beautiful desert oasis before kicking him out. Today this facility is managed by a state university as the Desert Studies Center. The area is rich in historical artifacts. If you have time to drive to the Mojave National Preserve visitor center in Kelso, there is an excellent exhibit about the career of Doc Spring. Just in case you were wondering, it's pronounced Zye-zicks, rhyming with Isaacs.
Cima Road, California
(mile 197)
A distinctive, spiky-haired member of the yucca family named for an Old Testament prophet, the Joshua tree is the Mojave Desert's signature tree. Detour into the Mojave National Preserve at exit 272 to see the Joshua trees lining Cima Road. The fourth right, Deer Spring Road, will lead you to the
Cima Dome
, once a craggy mountain that became smooth because of molten magma that spent eons cooling and crystallizing deep beneath the earth's surface.
Primm, Nevada
(mile 232)
If you want to do some shopping, the
Fashion Outlets of Las Vegas
can be found 15 feet into Nevada, where the sales tax is lower than that in California. The name is catchy, but a bit misleading. Though the outlet mall is located on Las Vegas Boulevard, it's still 37 miles south of the Strip.
Las Vegas, Nevada
(mile 267)
Las Vegas is, like, the best place ever. Despite a very tough local economy, over 2 million Nevadans call Las Vegas home.
Click here for some insider tips
about what locals enjoy about living in the only major city in America that was founded in the 20th century.
Find Hotels and Motels Near Las Vegas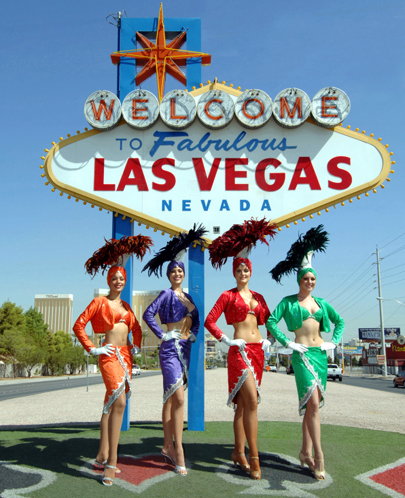 One of the most iconic photo views in Las Vegas
is the 'Welcome to Las Vegas' sign