108 miles - about 5 hours
This picturesque drive - designated a state byway as recently as July 2009 - follows the route of Old Highway 10 through some of North Dakota's loveliest rural countryside. Taking in open prairie, rolling hills, a series of charming small town communities and some of the world's largest roadside attractions, Old Red/Old Ten manages to deliver a sense of the scale and remoteness of this part of North Dakota while also offering enough attractions to keep even the youngest passengers entertained.
Here are some of the highlights to look out for along the way:
Mandan, North Dakota (
Starting point)
Begin your drive by calling in at Mandan Depot on Main Street. As well as offering tourist information, there's also a good selection of Native American arts, crafts, music and jewelry. You can't miss it - out front there's a lifesize bronze statue of a one-time deputy sheriff round these parts, a certain Theodore Roosevelt.
New Salem
(mile 25)
New Salem's most prominent landmark is
Salem Sue,
a 38-ft high Holstein cow that sits atop a hill on the outskirts of town and gazes out over rich North Dakota dairy farmland. It probably goes without saying that Sue is The World's Largest Holstein.
Curlew Loop
(mile 30)
This
12-mile diversion
is optional but highly recommended. The section after Almont is a gravel road that leads through sparsely populated farmland that can't have changed much in 100 years. You really do get a sense of escaping the 21st century hustle and bustle when you travel down this road.
Hebron
(mile 68)
Aside from the fact that the Hebron Brick Company is the oldest manufacturing operation in the state, Hebron is just another small, quiet town in southwest North Dakota. But that's the charm of this route, it takes you to places you might not otherwise visit and gives you the opportunity to stop and pass the time of day with the guy pumping gas or the girl behind the counter in the local store.
Schnell Recreation Area
(mile 80)
Once a working cattle ranch,
Schnell
is now a natural recreation area and an ideal place to break your journey, for an hour or so by strolling along the Bur Oak Nature Trail. You'll probably see deer, wildfowl and songbirds. Overnight camping is also available here.
Enchanted Highway
(mile 97)
Got a spare hour or so? Then take a diversion along the
Enchanted Highway
, a
32-mile route
that leads south to Regent and passes by a series of huge sculptures created from scrap metal by artist Gary Greff. The sculpture at the intersection with Interstate 94, entitled
Geese in Flight,
is officially recognized as the World's Largest Scrap Metal Sculpture.
Dickinson
(mile 108)
The Old Red/Old Ten Scenic Byway reaches its end in Dickinson, a city probably best known for its
excellent dinosaur museum,
home to 14 full-scale dinosaurs, and the separate museum center with its historic village. The city also hosts events including a festival celebrating the Ukrainian roots of many of those who settled round here, and the
annual Roughrider Days Fair
.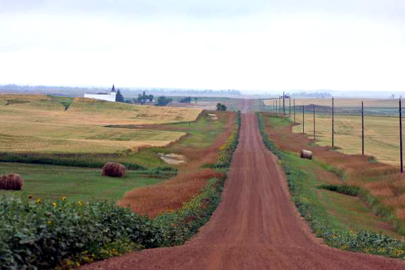 Part of the red gravel section of the
Old Red/Old Ten scenic byway heading
northwest from Almont towards Glen Ullin.