135 miles - about 6 hours
Feel a strange urge to hit the road in search of a big volcanic rock formation? Richard Dreyfuss certainly did in 'Close Encounters of the Third Kind.' Even if you aren't motivated by aliens, a trip to Wyoming's iconic Devils Tower from Rapid City, South Dakota takes you through a picturesque canyon and over rolling hills past the wild west towns of Deadwood and Lead. There's also a good chance you'll see some prairie dogs from your car window along the way.
Here are some attractions to look for along the way.
Rapid City, South Dakota
(Starting point)
Rapid City,
'the Gateway to the Black Hills,'
is the starting point of this route. In addition to offering plenty of dining options, lodging, RV parks and camping, Rapid City is home to the Journey Museum and Gardens, which houses exhibits about the history, archaeology, and paleontology of the Black Hills, and the Geology Museum on the campus of the South Dakota School of Mines and Technology, which has world-class displays of rare fossils and minerals and is open to the public. As the tourist hub for the area, Rapid City has a number of other cultural features and attractions.
Sturgis,
(mile 27)
Sturgis
was founded in 1878 and is one of the gateway communities for exploring the Black Hills area. It is most well-known for being the 'Motorcycle City USA' because it hosts a HUGE gathering of motorcycles each August.
Deadwood, SD
(mile 40)
Deadwood
was once a mining town, but earned its fame with gambling. The entire town is now a National Historic Landmark, and, with dozens of gaming halls that date back to the Gold Rush of 1876, it's still a gambling Mecca. Wild Bill Hickock was a resident of Deadwood when he was gunned down in a poker game. He and his soul mate, Calamity Jane, are both buried in Mount Moriah Cemetery on a hill overlooking the town. Peter Thody spend time exploring Deadwood,
check out his field report here.
Lead, SD
(mile 43)
Lead
is another nineteenth century mining town noted for its Homestake Gold Mine among others. Like Deadwood, Lead is a National Historic Landmark and packed with vintage buildings. You can easily spend days exploring Lead and Deadwood, but if your day's destination is Devils Tower, you'll have to settle for a quick look.
Spearfish Canyon
(mile 57)
Cheyenne Crossing is at the entrance to
Spearfish Canyon.
A twenty-mile scenic byway runs along the floor of the canyon. The road is a non-stop series of twists and turns, and there's beauty around every one. The byway is especially picturesque in the autumn, when the aspen, birch and oak leaves blaze with color. There are no facilities along the road, but plenty of places to pull off and enjoy the view.
Devils Tower National Monument
(mile 135)
The final part of the drive to
Devils Tower i
s mostly over two-lane country roads, but you see the huge rock sticking up like an enormous thumb long before you reach it. The tower becomes more impressive with each passing mile, making getting there a good deal of the fun. If you like rock climbing, you can
get a permit,
in season, to try your skill climbing to the summit of this 1267-foot monolith, but you had better be a good climber. On your way out of the park, stop at the turn-out parking area to watch the prairie dogs frolic only a few feet away from you.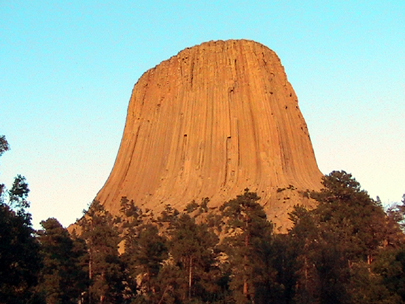 Devils Tower in Wyoming offers
striking colors throughout the day