116 miles - About 3 hours
A few years ago, Interstate Highway 240 in western Arkansas was extended, making the drive from Fort Smith to Fayetteville rather speedier. But for those who prefer the scenic route, there's nothing like the old US Highway 71, which gives better access to the colorful hilly terrain and the roadside craft shops. And after Fayetteville, it's only a little farther on US Highway 62 to Eureka Springs, an extraordinarily beautiful mountain resort town with a remarkably liberal outlook.
Here are a few highlights to look for:
Fort Smith
(Starting Point)
The Fort Smith Visitors Center
is one of the more interesting you'll ever visit. In its historic heyday, it was known as Miss Laura's Social Club. (At last report, it was the only former bordello to be placed on the National Register of Historic Places.) The city takes its name from the former riverfront military installation which is now
a National Historic Site
. The site adjoins the
Trail of Tears
, and includes the court presided over by 'the hanging judge,' Isaac Parker.
Van Buren
(Mile 7)
A neighbor community to Fort Smith, Van Buren is an antique shopper's paradise. Historic Main Street presents a facade that's a snapshot of life 150 years ago. In fact, you may recognize it as the backdrop for scenes from the 1982 CBS miniseries 'The Blue and the Gray', a Civil War saga.
Fayetteville
(Mile 57)
Best known as the former home of Bill and Hillary Clinton and the current home of the University of Arkansas, whose Razorbacks often dominate collegiate football and basketball, Fayetteville has been consistently named one of America's top cities in which to live, work and retire. It's also a hub of culture and a good place to catch a band at a local club. One Twelve Drive-In Theater is one of three drive-ins still remaining in the state.
Pea Ridge National Military Park
(Mile 92)
Pea Ridge
, one of the best preserved among Civil War battlefields, commemorates the crucial battle of March 1962. The 4,300 acre park includes Elkhorn Tavern, the only surviving structure of the time.
Eureka Springs
(Mile 116)
Established as a health resort because of its mineral springs, this picturesque village in the mountains is still a popular resort destination and film-shooting location. Take an invigorating stroll on the steep, winding streets among the Victorian houses and buildings, and visit some of the excellent art galleries and craft shops. Once you've worked up an appetite, you'll find plenty of restaurants and cafes to choose from. And if you're up for more exploring, take a self-guided tour of Onyx Cave. Eureka Springs is in many ways a most memorable place to end your journey. Be sure to swing by the
Basin Park Hotel
. Because it was built into the side of the mountain, there are several ground-floor entrances - all at different levels! Eureka Springs is known for being a socially tolerant city, and the local political stance is often at odds with that of the rest of the state of Arkansas.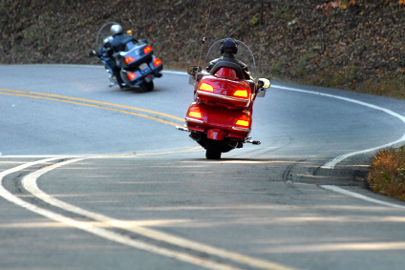 Wonderful curvy roads delight road trippers in Arkansas
Photo: iStockPhoto.com/ © David H. Lewis