227 miles - 1-2 days
Head north through Virginia on the
Blue Ridge Parkway
and, as well as passing through some of the nation's greenest and most rural countryside, you'll also travel back in time a little, to a place where getting from A to B took as long as it took. From rustic cabins to old farm buildings, from fiddle and banjo to moonshine stills, this is a drive that demands you slow down and experience these beautiful mountains.
The entire BRP is mile posted from north to south. The mileages given here are based on heading north from the North Carolina/Virginia border, followed by the 'official' mileposts. Here are just some of the sites along this memorable 217-mile drive:
Galax, Virginia
(Starting point)
Galax, Virginia is a small town in the heart of the Blue Ridge Parkway Mountains, with the usual tourist services, which is why it constitutes the beginning of this route. But if your travels get you near Galax around the second weekend of August, you won't find any available lodging of any kind. Galax is heaven if you like old-time fiddling and the fiddlers who ply their craft.
August, 2010 will be the 75th anniversary of this fantastic event.
From Galax, head south to join the Blue Ridge Parkway near the border of North Carolina and Virginia.
Blue Ridge Music Center
(mile 04 – BRP milepost 213)
OK, so you've only just set off but the
Blue Ridge Music Center
is a must. If you're visiting in the summer season, aim to arrive between midday and mid-afternoon and chances are local musicians will be playing outside. There's also an excellent visitor center and store (specializing in local music), plus an amphitheatre that stages larger concerts at the weekend.
Mabry Mill
(mile 41 – BRP milepost 176)
Mabry Mill is one of the highlights of the entire parkway. There's the highly photogenic mill itself, a woodland trail that goes past other old buildings and exhibits (including a still), and a very popular cafe/restaurant.
Rocky Knob Cabins
(mile 43 – BRP milepost 174)
If you're looking for somewhere truly unique to spend the night, check out Rocky Knob Cabins. Built in the 1930s for the Civilian Conservation Corps, the cabins are rustic but perfectly comfortable. You get beds, cooker, pots/pans, fridge, tables, chairs etc but showers/toilets are in a central block.
Roanoke River Gorge
(mile 102 – BRP milepost 115)
Looking to stretch your legs and smell the trees? Stop here and follow a 10 minute trail through the woods to an overlook offering good views over Roanoke River Gorge.
Peaks of Otter
(mile 131 – BRP milepost 86)
The best known and most recognizable of the three Peaks of Otter is the appropriately named Sharp Top which stands, photogenically, overlooking Abbott Lake. As well as taking in the views, you can also visit a number of fascinating original buildings including Polly Woods' tavern and the Johnson Farm. Peaks of Otter is also home to the parkway's only year-round lodging and restaurant.
Humpback Rocks
(mile 211 – BRP milepost 5.8)
Located virtually at the very end (or beginning, depending on your viewpoint) of the Blue Ridge Parkway, Humpback Rocks is the site of a visitor center, an excellent reconstructed 19th century farm featuring buildings collected from around the region and, yes, a natural rocky outcrop, once a landmark for wagon trains.
Rockfish Gap, Virginia
(mile 217 – BRP milepost 0)
Not had enough of the mountains? As you reach the end of the Blue Ridge Parkway just keep on going. The same road – now the 105-mile Skyline Drive – takes you straight into beautiful Shenandoah National Park,
click here for another of Peter's routes in this area
.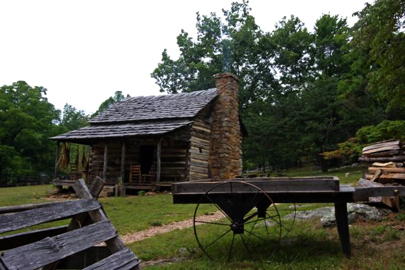 Preserved buildings along the parkway offer an
insight into life on the Blue Ridge Mountains 100 years ago.