130 Miles - Allow 3-8 hours
This is a route that's bound to fascinate any road tripper. It begins with the exploration of outer space and ends with the wonders of America's oldest city. The route is packed with adventure between the starting gate and the finish line. From surfing to car racing and from fishing to shopping, this route has something for just about everyone.
Here are a few highlights along this route:
Titusville, Florida
(Starting point)
Known as the 'Gateway to Nature and Space',
Titusville
is the starting point for this route.
Kennedy Space Center
(mile 20)
Ever had the desire to be an astronaut, if maybe just for a day? The
Kennedy Space Center
presents exhibits that enable visitors to experience what life might be like as an astronaut. The space center is packed with opportunities to provide the most inquisitive minded outer space buffs a chance to learn many of the secrets of the universe.
New Smyrna Beach
(mile 57)
Head north on Florida A1A and enjoy the scenery of this great highway, as it takes you along the shores of the Atlantic Ocean.
New Smyrna Beach
offers 13 miles of white sandy beaches and is a favorite among surfers. If you don't want to take to the waves on a surf board, just being an observer is fun. Surf fishing is also popular here and/or visitors can enjoy some time shopping and dining out.
Daytona Beach
(mile 77)
The roar of engines and of the surf is the big draw at this well known Florida destination. Home to
Daytona International Speedway
, where race car fans from all over the country gather for some of the best racing in the country. And don't forget
Daytona Beach's
beach, one of the most popular destinations among college spring breakers and filled with things to do from morning until late night anytime of the year.
St. Augustine
(mile 130)
Cross the Bridge of Lions into
St. Augustine
, and into the nation's oldest city, a place that will enchant the visitor with its charm. Forts and other buildings are preserved from a time long ago, and even the more 'modern' structures capture the town's history. There are many ways to sight see through the narrow roads and passages, with the horse drawn buggy often the favorite. Dining is superb, but remember, for the most part, the sidewalks in St. Augustine roll up early.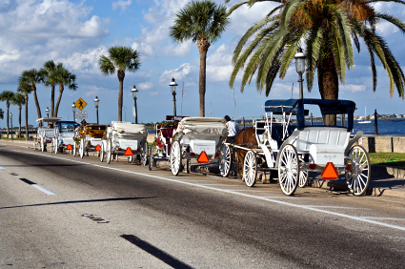 Horse drawn buggies are the preferred mode
of road tripper conveyance in St. Augustine
Photo: iStockPhoto.com/© Terry J Alcorn